Green Initiatives at Internode

Green technologies play an important part in Internode's planning. "It becomes a competitive advantage because green initiatives can help reduce our operating costs even if they cost a bit more to set up,".
Internode's corporate offices - at 150 Grenfell Street, Adelaide - features energy-saving designs and practices. For years, Internode has recycled cardboard boxes and paper and sent obsolete computer hardware to third party metal scrap retailers.
Virtual servers reduce Internode power use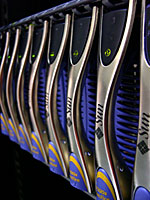 Internode has already reduced power consumption and increased the performance of its web servers, by introducing virtualisation technology at its two existing data centres.
In 2007, Internode introduced the virtual server technology to its operations to meet its internal needs and those of its customers. This technique creates multiple virtual server environments that more efficiently share the resources of available physical servers. As a result of this initiative, Internode reduced the number of physical web servers from 11 to five, while at the same time creating a total of 30 'virtual servers', more than doubling its web-serving capacity.
Immediate benefits include close to halving power consumption by Internode's web servers, reduced demand for air conditioning use and less pressure on server rack space in its data centres.
As proof that environmental responsibility makes good business sense, Internode passed on the benefits of this improved operational performance by launching lower-cost web hosting services for small to medium businesses. Customer benefits include lower costs, combined with improved features, performance and availability.
Solar-powered communication towers in the Coorong
Internode is using solar-powered microwave towers to deliver virtually total coverage of ADSL2+ broadband across South Australia's largest local government region. In a five-year partnership with the far-sighted Coorong District Council, Internode has built a voice and data broadband network that delivers significant economic benefits to 6000 residents and businesses in the 8800 square kilometre area south east of Adelaide.
Of the 17 towers in the Coorong, 12 are self-powered through the use of $12,000 power systems that feature solar arrays, charge controllers and high capacity batteries. These Solar Wireless Access Node towers, designed by Internode, have enough battery capacity to run for several days without significant sunlight, and are fully remote monitored.
Internode Founder Simon Hackett said the solar-powered towers were vital to deliver a financially sustainable broadband network in a regional area. "We designed a network with low running costs to meet the broadband needs of a low population density in this large area," he said. This is another example of environmental responsibility making good business sense.
RoHS-compliant ADSL routers
Internode also provides its customers with ROHS-compliant routers designed to meet rigorous European environmental standards.
RoHS (Restriction of Hazardous Substances) compliance, also known as the European Union's directive 2002/95/EC, restricts the use of certain hazardous substances in electrical devices and electronic equipment. ROHS Compliance became mandatory in Europe from July 1, 2006. ROHS compliance is not currently an Australian requirement.
Internode sells ROHS-compliant ADSL routers, including the Cisco 887 range, AVM FRITZ!Box, and our Billion range.