Equally, it's a great service for the person on the move - your clients, associates and friends can send a short email message directly to the screen of your digital mobile phone!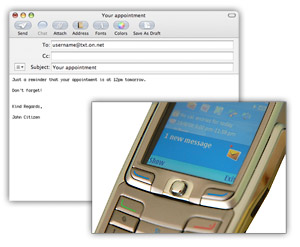 Typical Business Applications
Real estate companies communicating information about new home openings to qualified registered buyers.
Corporate customers needing to notify technical staff of system alerts via automated monitoring systems 24x7.
Keeping in contact with your mobile workforce.
Options
There are three product variants :
NodeText Sender provides the facility to send email message as text messages, to any Australian mobile phone service.
The message that you type into the 'body' of the email message defines the content of the text message that is delivered to the mobile phone.
NodeText Receiver provides a specific email address (in the format username@txt.on.net), and any email messages sent to this address are forwarded as a text message to one or more pre-defined Australian mobile phone services. Up to ten mobile phones can be assigned to each NodeText Receiver account.
NodeText Gateway is the appropriate choice for customers sending automated or high volumes of SMS messages to Australian mobile phone services, directly from their own applications, with maximum efficiency. Your servers can communicate directly with our messaging gateway via a secure https connection.
Availability and Acceptable Use
The Internode NodeText service can be used to send text messages to any Australian mobile phone service on any carrier - specifically, any mobile phone service starting with '04' - even when it is roaming overseas. However, the service is not intended to support sending text messages to international mobile phone services.
Please note that Internode apply an Acceptable Use Policy to NodeText, and the service may not be used for any illegal purpose; including spamming, impersonation, and harassment.