FRITZ!Box 7490
Packed with impressive features, the exciting FRITZ!Box 7490 router is the ideal digital communications hub for Internet and phone services.
The sleek design includes an ADSL2+ modem, high-speed wireless, a sophisticated phone system, answering machine, cordless phone base station, print and file server, and more.
It replaces an entire cupboard full of separate devices!
With an industry-leading five year warranty, FRITZ!Box sets the standard for communications over ADSL2+, Fibre to the Premises and NBN, VoIP, and Wireless.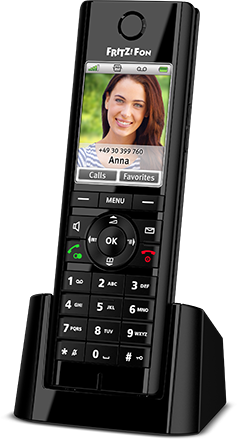 FRITZ!Fon C5 DECT Handset
For the best telephony experience, pair your FRITZ!Box with the incredible FRITZ!Fon DECT handset.
Developed for the FRITZ!Box, the FRITZ!Fon supports Internet and fixed-line phone services. Simply turn on your FRITZ!Fon and follow the instructions to connect to your FRITZ!Box's DECT base station.
The clear menu system provides easy access to the FRITZ!Box's advanced telephone features. And you can do more than just make calls: access your email, listen to music and podcasts, and more, all on the large colour display.
FRITZ!Box Pricing
Purchase
Price

* For full features, must be used with FRITZ!Box routers.

FRITZ!Box 7490
The flagship FRITZ!Box 7490 is ideal for home office and small business,
offering unrivalled speed and performance.

$249.00

each
FRITZ!Fon C5 Handset *
Developed exclusively for the FRITZ!Box, view e-mails or RSS feeds,
and listen to music via the phone.

$109.00

each
Bundle a FRITZ!Box 7490 with a FRITZ!Fon C5 Handset
The complete package for high quality Internet and phone.

$349.00

each
Features
FRITZ!Box puts control of the Internet in your hands. Whether you're connecting a single PC, a home network, or a small office, it's the ideal solution.
With advanced security, virtual private networking, IPv6, and more, it has everything you need for your digital lifestyle. In fact, almost any Internet function you can imagine is built into this single, amazing device:

Ease of Setup
FRITZ!Box setup and configuration is easy.
The simple setup wizard will get you online in minutes, and joining the wireless network is a snap. Wizards are also used to set up the telephone features—one of the many strengths of the FRITZ!Box.
---

Comprehensive Internet Solution
FRITZ!Box is a complete Internet gateway, suitable for ADSL2+, Fibre to the Premises, and the NBN. It's IPv6 ready, and features built-in security with a stateful packet inspection firewall. You can even create your own Virtual Private Network for remote access.
Easy to use
Fast and simple set-up with step-by-step wizards.
Flexible
Supports ADSL2+, full-speed
National Broadband Network (NBN),
Fibre, and VDSL2.
Ready for the Future
Supports IPv6—the next generation Internet protocol
Remote Access
The built-in Virtual Private Network lets you access your network anywhere.

Secure
Integrated stateful packet inspection firewall and secure port forwarding.
Advanced Features
Expert Mode features a wealth of advanced diagnostic & reporting features for the advanced user.
Bandwidth Management
Optimise your bandwidth for NodePhone VoIP.
Keeps getting better
Online firmware updates for
continuous improvement.
---
Complete Phone System
FRITZ!Box's advanced communication system seamlessly integrates Internet and fixed-line phone services. Whether you have one telephone service, or many, FRITZ!Box handles it with ease.
Multiple VoIP Accounts
Allows up to 20 separate
VoIP accounts.
Built-in DECT base station
Supports up to 6 cordless phones including the incredible FRITZ!Fon.
High definition voice
Natural sounding VoIP phone calls
(with compatible devices).
Flexibility
Allows up to three cordless phone calls at the same time.

Analog phone support
Two phone ports for connecting your existing telephone handsets.
Automatic fallback
Automatically switch to your landline if VoIP is not available.
Answering Machine
Create up to five voicemail services for different numbers.
Fax and Voicemail to Email
Fax and answering machine messages automatically e-mailed.
---

Extensive Network Features
FRITZ!Box makes it simple to create and manage sophisticated home or office networks. With the inbuilt four-port Ethernet switch and high speed WiFi, it's easy to connect all your devices.
Print Server
The USB port lets you make your printer available to the whole network.
Fast WiFi
Dual-band AC WiFi capable of speeds up to 1300 Mbps.
Expanded WiFi Coverage
MIMO (Multiple-input Multiple-output) technology increases throughput and expands coverage.
Guest WiFi
Allow guests to use your network without compromising your security.

File Server
Share up to 2 Terabytes of USB
storage across your network.
Gigabit Ethernet
Four port Gigabit Ethernet
(1000 Mbps) LAN switch.
Eco Mode
Optimise output power and save
energy, even when the network
is in use.
Guest Ethernet
The LAN port 4 can be used as a guest port, similar to the guest WiFi.