Placing your communications infrastructure on Internode's IP network ensures reliability, scalability and, of course, business-class performance.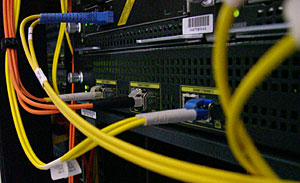 Ensure you're using our network to its full potential, with the most effective hardware solution for your business needs.
Internode Managed Equipment provides corporate customers with a cost-effective, fully managed service for network equipment such as routers and firewalls.
In conjunction with an Internode Business Connect wide area network, this provides a seamless 'LAN-to-LAN' networking solution.
Overview
Internode Managed Equipment involves the purchase, configuration, installation and ongoing management of a selection of Cisco networking equipment. This service is fully managed by Internode staff. This service includes:
Consultation and recommendation of the appropriate network equipment from the market-leading Cisco range of products.
Purchase of the Cisco equipment at competitive prices, with a simple 'rent-to-buy' option for approved applicants.
Configuration of the equipment to ensure optimal performance.
Optional on-site installation of the equipment.
Ongoing management of the equipment.
Ongoing Management Service
The monthly management service involves Internode retaining the equipment passwords on our secure password server; and the generation, updating and management of the equipment configuration files. Cisco Smartnet or Internode self-sparing is used to address hardware repairs and replacement. In addition, Cisco security patches are reviewed and applied if appropriate.
Further Information
During the consultative design phase of an Internode Business Connect proposal, we will discuss your requirements for managed equipment services. Alternatively, you are welcome to perform this function 'in house' or via your systems integrator; depending upon your business objectives.