When you choose Internode for your hosting or content solutions, you're guaranteed a fast, secure and reliable business presence on the Internet.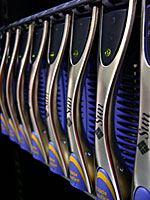 All Internode hosting platforms are housed in our secure, state-of-the-art data centres, and monitored around the clock by experienced Internet engineers.
Our purpose-built, world-class facilities are connected via our very own high performance International IP network to provide your business with a reliable and responsive Web presence.
Our hosting and content solutions include: