To ensure you're using Internode Fibre services to their full potential, you need to use the most effective hardware to connect to the Internet.
New customers can purchase hardware from Internode as part of ordering a Fibre Broadband service.
Existing customers can purchase hardware by contacting our Sales team (this hardware will be pre-configured for your service), or by purchasing from our online store (this hardware will not be pre-configured).
Contact our Sales team online or call us on 13 66 33 if you need help with your equipment purchasing decision!
Business Fibre Hardware Feature Summary and Overview
TG-789
FRITZ!Box 7490

A delivery charge of $15 may apply.

NBN Ready
(FTTP, FTTB, FTTN, and Fixed-Wireless)

up to 100 Mbps

up to 100 Mbps
IPv6 Capable
Ethernet
4 x Gigabit LAN
1 x Gigabit WAN
(1000 Mbps)
4 x Gigabit
(1000 Mbps)
WiFi
2.4 GHz (g+n)
up to 300 Mbps
+
5 GHz (n+ac)
up to 1300 Mbps
2.4 GHz (g+n)
up to 450 Mbps
+
5 GHz (n+ac)
up to 1300 Mbps
Phone Ports

x2

x2 + DECT
Phone Calls

VoIP only

Landline + VoIP
Built-in DECT Cordless
Phone Base Station

up to 6 DECT handsets
VPN & Remote Access

IPSEC + MyFritz
Advanced Phone Features

Voicemail, PABX, Smartphone App
Concurrent Phone Calls

1

up to 3
Multiple VoIP Accounts

up to 5 services
on one VoIP provider

up to 20 services
multiple VoIP providers
Matching DECT Handsets
(not included)
-

FRITZ!Fon
(not included)
USB

1 x 2.0
File Sharing

2 x 3.0
File + Printer Sharing, Mobile Data
Fast Replacement Warranty
2 years
5 years
Purchase Price

$89

$249
Business Fibre Broadband Routers
Recommended: FRITZ!Box 7490
The flagship FRITZ!Box 7490 offers unrivalled speed and performance. With the latest 802.11AC WiFi, Gigabit Ethernet, and USB 3.0, it's designed for speed.
Four port Gigabit Ethernet (1000 Mbps) LAN switch
Dual-band AC WiFi capable of speeds up to 1300 Mbps
Built-in DECT base station for up to 6 DECT handsets
Built-in Answering Machine and call transfer features
Ready for the NBN

2 USB 3.0 ports for printers or NAS file sharing devices
Two phone ports, to connect phones for NodePhone VoIP
Connects to the Internet via ADSL2+, VDSL2, or Ethernet
Supports broadband access speeds up to 100 Mbps
Native IPv6 support
Developed and produced in Germany, the FRITZ!Box 7490 also features a five year warranty.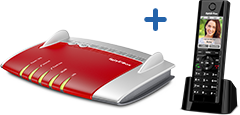 Bundle a FRITZ!Box 7490 and a FRITZ!Fon Handset
Designed especially for FRITZ!Box, FRITZ!Fon is a full featured DECT handset with support for HD-quality VoIP. Connect up to 6 to the built-in DECT base station in your FRITZ!Box.
Order when you sign up or buy now: Bundle: $349.00
Entry-level Router: TG-789
Create a WiFi network, connect wired devices, make VoIP calls, and enjoy shared access to USB devices.
Four port Gigabit Ethernet (1000 Mbps) LAN switch
2.4 GHz WiFi capable of speeds up to 300 Mbps
Two phone ports, to connect phones for NodePhone VoIP
1 USB 2.0 port for file sharing

5 GHz WiFi capable of speeds up to 1300 Mbps
Connects to the Internet via ADSL2+, VDSL2, or Ethernet
Supports broadband access speeds up to 100 Mbps
Native IPv6 support