Internode's Adelaide office is located at 150 Grenfell Street in the city. Come and check out our Reception and Retail area. 9am to 5pm, Monday to Friday.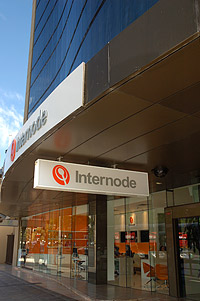 We're more accessible than ever!
Our Adelaide office is located on the North side of Grenfell Street, on the Eastern side of Pulteney Street. Just look for our sign on the side of the building! (view location on Google Maps). Our address is 150 Grenfell Street.

We have a retail area on the ground floor, combining reception, product sales and a walk-in customer service centre. (on the left when you walk through the front doors)
We've got expert staff from our Accounts and Billing, Sales, and Technical Support teams on-hand during business hours (9am to 5 pm, Monday to Friday), ready to assist with any queries you may have.
If you're looking for somewhere to park your car nearby, try Hindmarsh Square, the Wilson Park in Bent street (behind our building), or U-Park on Rundle Street.
Photos