The premature and unexpected cancellation of the Federal Govt's Broadband Connect Program has forced Internode to suspend its regional broadband rollout.
Federal Chop Forces a Halt to Regional Broadband Rollout
13-03-2007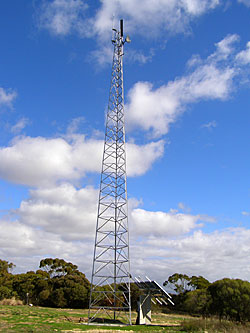 The premature and unexpected cancellation of the Federal Government's Broadband Connect Incentive Program has forced broadband trailblazer Internode to suspend its regional broadband rollout.
During the past three years, Internode has used the Federal Broadband Connect Program to assist with its substantial investment in building broadband infrastructure in regional Australia. Without these per-customer subsidies, delivering broadband in rural areas is commercially unviable.
Last week, the Federal Department of Communications Information Technology and the Arts (DCITA) announced that, from April 2007, its new Australian Broadband Guarantee initiative would replace the Broadband Connect Incentive Program, which was previously scheduled to run until June 30, 2007.
As a result of the program's premature cancellation, Internode has suspended all new installations of broadband services for which Broadband Connect rebates were previously applicable.
This means that Internode will install no new Wireless DSL services and that all its ADSL services will be available only at list prices, with no applicable Broadband Connect subsidy. Internode has also halted all physical work on network construction in Broadband Connect areas serviced by the company. Another result of the program's cancellation is that Internode has withdrawn its entry-level $29.95 broadband plan which was retained until now in order to make broadband more affordable for regional customers.
Internode is a national company that delivers broadband services to customers Australia-wide, the vast majority of whom live in high density metropolitan areas. However, Internode has also been a pioneer in the deployment of sustainable regional broadband services since the year 2000. During the past few years, Internode has delivered broadband services in regional Australia by using the Broadband Connect subsidy program to ensure a predictable return on its investment.
Internode Managing Director Simon Hackett said Internode regretted the need to take this action. " It has been forced upon us by the unexpected and premature end of the DCITA Broadband Connect subsidy program," he said.
"A newly-announced program, called the Australian Broadband Guarantee, may allow us to re-commence new service installations in the future. However, at this time, substantial apparent flaws in the announced scheme must be addressed by DCITA before that scheme will be a viable mechanism with which we could re-start delivering our pioneering broadband services in regional Australia."
"In good faith, Internode has made a multi-million-dollar investment to deliver broadband services in regional areas. The return on these investments was always going to be long-term. However, DCITA's decision to cancel the Broadband Connect subsidy program prematurely has stranded these existing investments, which are now mired in uncertainty regarding their eligibility under the new scheme, and forced us to abandon many additional intended investments."
"We expect to explore ways to address that stranded investment with DCITA, along with an inadequate proposed subsidy level for terrestrial wireless services, as part of assisting them to address these and other flaws we have already identified in the Australian Broadband Guarantee. In the meantime, we have no choice but to suspend all new installations of regional wireless DSL services."
"We are deeply saddened that the regional communities we have worked so hard to advantage with metropolitan-equivalent broadband now have to suffer while the industry resolves these shortcomings with DCITA. Clearly access to affordable broadband services for the whole regional community in the next 12-18 months hangs in the balance."