Internode springs into sponsorship season next month as a major partner of the World Solar Challenge, a 3000km odyssey of solar-powered vehicles from Darwin to Adelaide.
Internode shines for World Solar Challenge 2011
26-09-2011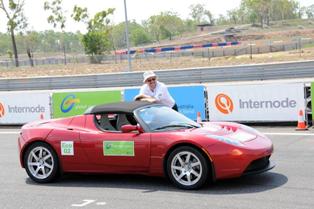 In addition to supporting this transcontinental sun-powered run from October 16-23, Internode is sponsoring two other events next month: the Australian IPv6 Summit in Melbourne, and the three-day WOMAD Earth Station festival at Belair National Park in SA.
Pioneered by the South Australian Tourism Commission, the World Solar Challenge is one of the most prestigious events of its kind, attracting interest and participation from some of the world's best technical universities and colleges.
Internode first became involved with the event in 2009, when it included the Global Green Challenge for alternative energy vehicles. During the week-long marathon road run from Darwin to Adelaide, Internode managing director Simon Hackett broke a world record by driving his all-electric Tesla Roadster sports car more than 500km on a single charge.
Internode has maintained its sponsorship of this year's solar-only event because of the values shared between the broadband company and the World Solar Challenge event: both are committed to innovation and embracing environmentally responsible technologies.
In 2008, Internode achieved CO2-free status after undertaking a major greenhouse gas emission audit and purchasing the required offset carbon credits. Since September that year, Internode has used 100% GreenPower™, generated from sources such as wind and solar, throughout its data centres.
Internode managing director Simon Hackett said sponsoring the World Solar Challenge was an investment in a cleaner future for transport. "Part of the buzz of this event is that an innovation pioneered through the World Solar Challenge may one day end up on a vehicle production line," he said.
As well as having a significant presence at the World Solar Challenge "village" in Adelaide's Victoria Square, Internode will also sponsor the Internode Control Point at Alice Springs, the event's timing station which records the arrival and departure times of vehicles.
The conclusion of the World Solar Challenge, on Sunday, October 23, coincides with the inaugural WOMAD Earth Station festival, which runs over the weekend of October 21–23 at Belair National Park, for which Internode is a major sponsor.
Internode is also sponsoring the Australian IPv6 Summit in Melbourne from October 17–19. Internode is Australia's first national broadband provider to have deployed IPv6 as a standard production service feature available to all its home and business broadband customers.
More Information