View Unbundled Plans
Bundled Easy Broadband ADSL2+ Plans
250 GB
500 GB
Unlimited GB

† View: Total Minimum Costs | Setup Fees | Hardware Requirements | Terms & Conditions | Critical Information Summary

† The Total Minimum Cost for Easy Broadband includes the standard ADSL setup fee ($129), the NodeLine transfer fee ($0), and 3 months of Easy Broadband and NodeLine plan rental (as NodeLine has a 3 month minimum term). Data Blocks, Option Packs, Call Charges, Call Packs, and optional features are additional. NodeLine setup fees may apply if setting up a new fixed-line phone service.

* You need a fixed-line phone service to use ADSL2+. If your phone service is NodeLine Home Phone, you'll receive the prices listed above. This is a total bundled price - including broadband (at the discounted price) and NodeLine Home Phone. If you use a fixed-line phone service from another provider, you will not receive the bundling discount on your broadband.

ˆ Excess data usage is shaped to 256/256 kbps.

$59.99 broadband

$30.04 broadband
+
$29.95 phone *

$59.99

per month Min Cost: $308.97 † $0.13 per GB ˆ

$69.99 broadband

$40.04 broadband
+
$29.95 phone *

$69.99

per month Min Cost: $338.97 † $0.09 per GB ˆ

$79.99 broadband

$50.04 broadband
+
$29.95 phone *

$79.99

per month Min Cost: $368.97 †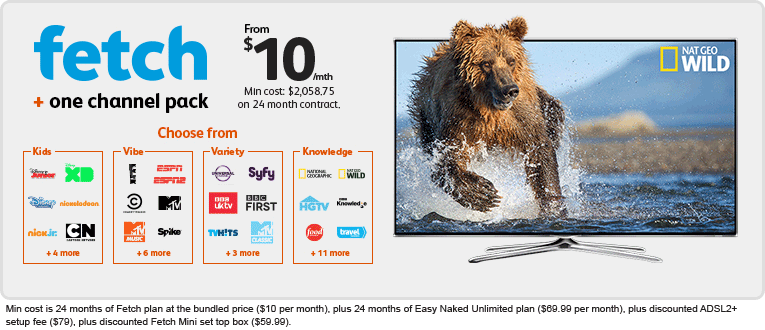 Bundle & Save
Transfer your landline phone service to NodeLine and receive a monthly bundling discount on your broadband. NodeLine Home Value offers great call rates, and in most cases you can keep your existing phone number.
For even greater value, add included call value to your NodeLine service with an optional Call Pack.
Enjoy Extreme Performance
All Easy Broadband plans are provided at ADSL2+ speeds via Internode's own broadband network. Learn more about Easy Broadband performance.
---
More than just the Internet
Easy Broadband includes useful features for a complete online experience:
---
Need More Features?
For Internet enthusiasts and business customers, add a Power Pack or Business Pack for more features:
The Power Pack option is $10 per month, and adds a static IPv4 address, faster over quota shaping, an included .power.on.net subdomain (available on request), and uploads no longer count towards your quota.
The Business Pack option is $30 per month, and adds a static IPv4 address with optional subnet, no excess shaping (capped excess charges apply), priority business support, uploads no longer count towards your quota, and more.
Learn more about Power and Business Packs
---
Can I Get It?
To find out if Easy Broadband is available, simply enter your phone number or address into our
online coverage checker.
If you don't currently have ADSL, then we can set up Easy Broadband from scratch. If you already have ADSL with another provider, we can transfer it to Internode, with as little as two hours downtime.
Learn more about transferring to Easy Broadband
---
Questions?
Got a question about Easy Broadband? Learn about coverage, getting connected, and more in our Frequently Asked Questions.
If you need help, please contact our Sales team online or call us on 13 66 33.