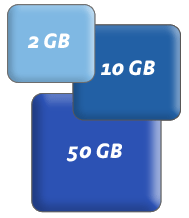 Broadband Data Blocks
Data Blocks are billed monthly (in arrears) on your Internode account. You must use your data blocks within the quota period (month) that you purchase them - they do not roll over to the following month.
The following Data Block pricing applies for ADSL2+, NBN, and Fibre to the Premises services. For NodeMobile Data services, see NodeMobile Data Blocks.
This pricing includes GST.

2 Gigabytes
$5
10 Gigabytes
$10
20 Gigabytes
$15
50 Gigabytes
$30
100 Gigabytes
$50
200 Gigabytes
$80
More Information
If you find yourself close to using all your monthly quota, simply buy a 'block' of data online - and keep surfing at full speed. Or, if you are already over quota, you can buy a data block to have shaping removed and return to normal speed. Note: Any usage generated while shaped, will be deducted from your data block.
If you find that you're purchasing data blocks often, it may be more cost-effective to switch to a higher quota plan. Plan changes occur on your plan roll-over/billing date.
Data Blocks Frequently Asked Questions
Note: Data Blocks are not available on ADSL plans with a 'Business Pack' or legacy 'Business ADSL' plans.