Does the thought of trying to connect your broadband and other gadgets leave you scratching your head? Well, we have the perfect remedy.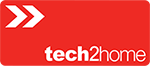 Whatever the Internode product or hardware, our trusted partner, tech2home, is here to help get you up and running in no time. They can visit you at home and set it all up for you or guide you through the tricky bits over the phone. The team at tech2home love all things tech so much that that they can connect your entire home, not just your modem.
tech2home can help with:
Setup & Configuration

What's the point of having shiny gadgets if you're not getting the most out of them? Your tech2home tech can help set up your new Internode broadband service, modem, home network, and Fetch TV. They can also help connect and configure your choice of 3 internet-ready peripherals such as smartphones, tablets, smart TVs, gaming consoles, PCs, laptops, and more!

Wireless Home Networking & Security

tech2home can help set up a secure wireless network in your home and ensure your wireless-enabled gadgets can connect to the internet. They can also provide recommendations on internet security, network range optimisation, and speed.

Support, Troubleshooting, & Optimisation

Home network misbehaving? Computer running slow? tech2home can help troubleshoot and fix any connectivity problems. They can also help optimise your PC or laptop, curing it of performance issues. If your gadgets need customisation, they can take care of that for you too.

Education & Advice

Want to know more about this internet thing? tech2home can help with general 'net and computer advice. They'll explain how you can get the best out of your new broadband connection and show you how to use your computer and other wireless gadgets. The tech2home team has heaps of handy tips and tricks to teach you.
You can choose from:
Organise a visit today by calling tech2home directly on 1300 487 587.