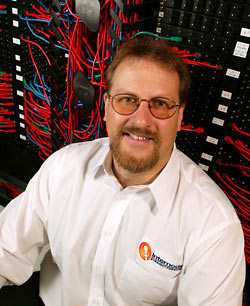 Topping a year of business breakthroughs, Internode CEO Simon Hackett has received two personal honours in two weeks, respectively acknowledging his professional contributions to Australia's technology and business arenas.
Last week, Mr. Hackett, 39, was selected as one of four winners in the 2005 Ernst & Young Entrepreneur of the Year awards for SA who will go on to represent the central region at the national level.
This success came just two weeks after the Australian Computer Society acknowledged Mr. Hackett's contribution to Australia's technology innovation by according him elevated status as a Fellow of the ACS.
This double accolade contributes to a breakthrough year for the founder of Internode, a $40 million Internet services company that has just completed its fifth year of strongly profitable growth. As well as introducing Australia's first commercial ADSL2+ broadband services in March this year, Internode has extended its Tier 1 national network to reach the US and has also launched a Voice over IP service, called NodePhone.
The achievement of piloting Internode to success in the fiercely competitive Internet industry is even more outstanding when privately-held Internode is matching it with publicly-listed competitors and even taking the innovation challenge right to Telstra's door.
The Ernst & Young Entrepreneur of the Year Awards are a major business award series in which 13 finalists in a range of competitive categories are refined to four winners to represent the central region nationally.
Mr. Hackett, who was selected in the Technology, Communications, E-commerce and Life Sciences category, has an illustrious history which includes being part of the team that launched the Internet in Australia in 1989.
As well as running Internode, which has more than 35,000 broadband customers, the energetic entrepreneur established Agile Communications in 1997. Since 2001, Agile has blazed an innovative trail by establishing Internet Protocol-based voice and broadband networks in regional areas of Australia including the Yorke Peninsula and the Coorong.
Other Central Australian winners in the Ernst & Young Entrepreneur of the Year Awards are Tim Vorbach of FAB Cleaning (Services); Bryan Stokes & Paul Wheeler of Cartridge World (Retail, Consumer and Industrial Products) and James Rice of Urban Construct (SA's Young Entrepreneur of the Year).
In accepting Mr. Hackett as a Fellow of the Australian Computer Society (FACS), the ACS acknowledged him as one of the Internet's true pioneers who participated in building AARNet (the Australian Academic and Research Network) while working at Adelaide University.
It also recognised that Internode and Agile have helped drive nationally important innovation, especially with the Coorong Communication Project, which created the first significant non-Telstra data and voice network in a major regional area.