Internode is planning to turn on Australia's fastest commercial broadband services for people in Port Augusta as soon as possible....
Port Augusta will Beat Major Cities to Fastest Broadband in the Land
02-09-2005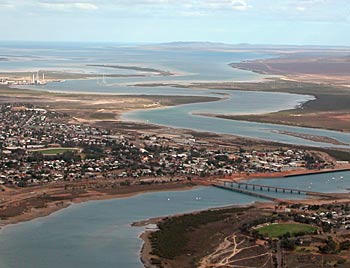 National broadband innovator Internode is planning to turn on Australia's fastest commercial broadband services for people in Port Augusta as soon as possible.
The South Australian company already provides first-generation broadband services to customers in Port Augusta, and will extend its first-generation broadband reach to residents in Stirling North this month.
However, Internode has also started to install Australia's fastest commercial broadband service, which runs 16 times faster than the top-speed Telstra plan. In March, Internode became Australia's first company to launch this super-fast broadband, which runs as fast as 24 megabits per second. Some Internode Extreme Broadband plans cost less than slower plans sold by Telstra.
Internode CEO Simon Hackett said Port Augusta would receive this super-fast broadband before residents and businesses in many major cities such as Sydney, Melbourne and Brisbane. "Many of our customers are in regional areas of South Australia, so we want to give them the opportunity to take part in the Internet revolution unleashed by ADSL2+ broadband," he said.
"We are at the dawn of a new age in both telecommunications and entertainment where you will use your broadband connection to access services that include video on demand, low-cost phone calls to anywhere in the world and website downloads faster than you've ever seen before."
"After years of regional Australia being last on the list, it's great that people in Port Augusta will gain access to next-generation broadband before most people in the capital cities."
Internode is a leading Australian broadband services and Internet services provider. Based in Adelaide, it is a premier provider of business-class Internet access and professional services to organisations throughout Australia. Internode founder Simon Hackett is an Internet pioneer who was involved in AARNet, which brought the Internet to Australia's shores in the 1980s.
First generation broadband services available from Internode and Telstra run at speeds as fast as 1.5 megabits per second, depending on your distance from the telephone exchange. Internode has stolen a march on its rivals by launching next-generation broadband services that run 16 times faster, at speeds of up to 24 megabits per second (Mbps).
Internode's Extreme Broadband offers enough bandwidth for simultaneous services including:
High quality video channels
Low-cost voice telephone calls using Internode's new NodePhone service
Super-fast email and web page downloads, eliminating painful waits.
To learn if your telephone number can receive a standard broadband or Extreme Broadband service, visit the Internode website at www.internode.on.net and enter your phone number.
Mr. Hackett said Internode's Extreme Broadband plans offered choice, speed and freedom. "We give you complete choice, from standard broadband right up to the super-fast," he said.
"We give you the freedom to choose a free modem and setup with your Internode broadband service or to have a contract-free plan, which means you can change whenever you want."
"We will turn on Extreme Broadband for Port Augusta and Stirling North as soon as we can get our equipment installed at the city's telephone exchanges, which usually takes about four months, although it may take a bit longer because of Telstra limiting access to its exchanges over the Christmas period."