Internode is beefing up its Tier-1 broadband network to ensure it can deliver video-on-demand services throughout Australia.
Internode Deploys Video-Grade Network
21-11-2005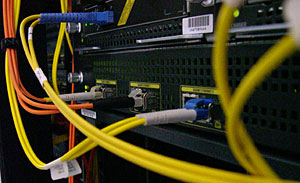 In preparation for 2006 as the "Year of Triple Play", Internode is deploying carrier-grade SDH * (Synchronous Digital Hierarchy) telecommunications infrastructure to ensure its network has the bandwidth capacity and the self-healing capability to carry video, voice and data traffic.
Internode's multi-million-dollar network upgrade will be complete by the New Year, delivering:
A carrier-grade SDH network running on Nextgen's national fibre network that provides a total of 4.8 Gigabits of private circuit capacity between most capital cities
An eight-fold increase in speed on existing inter-capital Internet backbone links between Adelaide, Sydney, Melbourne, Brisbane and Canberra, from 1 x 155 Megabits per second (Mbps) to 2 x 622 Mbps links. These links are being deployed within the new SDH network cloud, leaving a huge capacity in the network for immediate circuit expansion, on demand, as required.
A 50 per cent boost in international links by adding two extra 155Mbps links to its Southern Cross Cable Network-provided capacity. This provides almost 1 Gbps of fault-tolerant international network capacity to Internode's dedicated routers in the US. Further expansion of international links with the addition of international STM-4 (622Mb/s) links is planned for 2006.
Internode CEO Simon Hackett said the company was investing in a future-proof network to meet anticipated demand for "triple play" services in 2006. "With this upgrade, we can fearlessly drive video around the country," he said.
"In a network world where you have to think about what each megabyte costs, you can't do this, but Internode is building this carrier-grade network so that we can build new business models based on the 'triple-play' demand for video, voice and data. "
"Our network has the robustness of traditional carriers like Telstra, Optus and AAPT, but it is designed from the ground up as an Internet Protocol (IP) network. The old guys are still deploying IP services networks. Our network was born that way."
Internode's network upgrade continues an extraordinarily dynamic year for the company. In March, the 21st century carrier launched Australia's first commercial ADSL2+ broadband services, running as fast as 24 Mbps. It is currently deploying ADSL2+ in telephone exchanges on the east coast. Internode has also launched NodePhone, a voice-over-broadband telephone service that dramatically reduces the cost of telephone calls for customers.
Mr. Hackett said Internode was continuing the process of supplying its own telecommunications capacity nationally. "Our SDH equipment makes us a true Tier-1 carrier, providing us with enormous slabs of reserved bandwidth and carving it up into chunks that are usable by business," he said.
"This allows us to slice out reserved capacity for large corporate requirements so that we can provide private inter-capital circuits to business up into the gigabit range. That also gives us the facility to carve off our own dedicated protected circuit capacity to haul video content between states as part of our triple-play service rollouts in 2006."
* SDH (Synchronous Digital Hierarchy) describes an internationally recognised optical networking standard that defines how a telecommunications network will be automatically restored during service outages via redundant links as well as how it synchronises to allow Time-Division Multiplexing (TDM).