Internode has blended ADSL2+ broadband with solar-powered microwave towers to deliver virtually total broadband coverage across SA's largest local government region.
Internode Covers Coorong with Solar-Powered Broadband
20-09-2006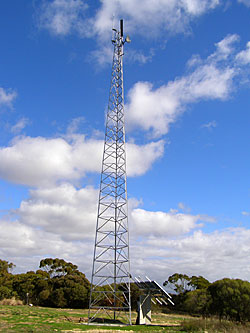 Internode has blended super-fast ADSL2+ broadband with solar-powered microwave towers to deliver virtually total broadband coverage across South Australia's largest local government region.
In a five-year partnership with the far-sighted Coorong District Council, national broadband innovator Internode has built a voice and data broadband network that delivers significant economic benefits to 6000 residents and businesses in the 8800 square kilometre area south east of Adelaide.
Internode's NodePhone Voice over IP (VoIP) service has halved the cost of voice telephone calls for people in the Coorong. Internode has also launched super-fast ADSL2+ broadband in Coorong towns. The Internode network has reduced Coorong District Council its voice call and data charges by more than $30,000 a year - nearly three times the originally anticipated saving of $11,000 per annum.
Coorong District Council CEO Tim Drew said broadband overcame the tyranny of distance. "As a council, we cover the biggest landmass area in SA," he said. "Many people live well away from major towns or settlements, so they find it harder to access services that are easy for people in town. If they can get high-speed broadband in their homes, it means they don't have to travel 100km to town."
"This is one of the most impressive broadband initiatives I have seen," said Mr. Drew, who joined the council from Victoria in January this year. "Internode has used technology innovatively to make sure it works at a low cost, so it gives them the returns they need to make sure the project goes ahead. Their involvement has speeded up delivery of broadband throughout the area by a number of years."
"Broadband access is critical for some businesses if they are going to set up in the Coorong. For existing businesses, it opens up opportunities for them beyond their traditional market. Broadband is a vital building block for economic development."
Last year, the Coorong Communications Network was recognised as Australia's Best Regional Communication Solution by the Australian Telecommunication Users Group (ATUG). The Coorong Network was the first publicly available non-Telstra communication network in regional Australia.
The Coorong Project was funded by Federal, State and local government resources as well as a substantial cash and expertise contribution by the Internode Group. Internode has installed ADSL2+ broadband in the telephone exchanges at Meningie, Tailem Bend, Coonalpyn and Tintinara. To reach people in smaller townships and on farms, Internode and the council have built microwave radio towers that deliver Internode Wireless broadband across the Coorong landscape.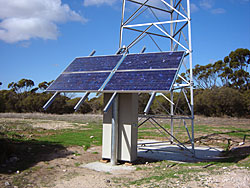 Of the 17 towers, 12 are self-powered through the use of $12,000 power systems that feature solar arrays, charge controllers and high capacity batteries. These Solar Wireless Access Node towers, designed by Internode, have enough battery capacity to run for several days without significant sunlight, and are fully remote monitored.
Internode Managing Director Simon Hackett said the solar-powered towers were vital to deliver a financially sustainable broadband network in a regional area. "We designed a network with low running costs to meet the broadband needs of a low population density in this large area," he said.
"The beauty of the SWAN units is that they can deliver broadband services into rural areas at a relatively low capital cost, as long as backhaul is available. From the Coorong, we built our own backhaul channel to Adelaide, giving us end-to-end control over the costs of our network."
Coorong District Council Coordinator of Information Services Kym Cleggett said the Coorong Project had delivered broadband coverage across nearly 9000km.
"For all intents and purposes, we covered 100 per cent of the area," he said. "Most residents within the region have access to subsidised broadband through Federal Government initiatives that cover their connection setup costs. That means people in this remote area can run broadband and VoIP (Voice over IP) services just as easily and affordably as if they lived in the city."
"That whole network is independent of Telstra, so it is significant. The network is sustainable and has very low recurring costs. On completion and commissioning, the network is fully owned and maintained by the Internode Group, so it will not pose any ongoing liabilities for the council."
"In fact, from the council's perspective, it has been a major cost-saving exercise for us. It has also allowed us to operate our administration in a decentralised manner, which would not be affordable otherwise because we have three council operations in three towns, with senior people in each office."
"It's great that Internode has worked with a local business, Bridge Online of Murray Bridge, to offer services to the region. We are not selling out local business by bringing in an outside competitor. It's a very good outcome for the community. It has been a win-win partnership with Internode."
About Internode
Internode is an Internet age carrier committed to using broadband technology to redefine the national telecommunications environment. The Australian-owned company is a trailblazer that delivers the cost and convenience of broadband telecommunications to individuals and businesses throughout Australia.