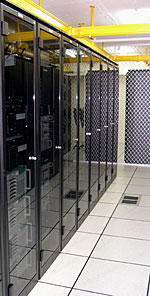 Broadband trailblazer Internode has commissioned a second data centre in Adelaide, providing full redundancy for the heart of its national broadband network and boosting its capacity by 400 per cent.
Internode has located its new data centre in a facility that once housed Westpac's Cheque Processing Centre. It is augmenting the existing high level of built-in robustness and security by retrofitting state-of-the-art networking, security and fire suppression systems to meet its own needs and those of its clients.
The 1000-square-metre, $3 million centre incorporates a $500,000 fibre-cross-connected multi-terabyte Sun Storage Area Network (SAN) system. As well as high-level security, the data centre has an FM200 fire suppression system that uses gas to extinguish a fire without disrupting computer equipment.
The major benefit of running dual high-end data centres is that Internode will duplicate its core routing, switching and server assets. This will enable the business to withstand the catastrophic loss of one of the facilities without disrupting customer services in any significant way.
The new Data Centre will have an on-site power generation capacity of one megawatt. In the event of a power failure, massive batteries will transition the data centre, operating at full load, to a diesel-powered generator, which can operate for as long as six days with on-site fuel.
Internode General Manager Patrick Tapper said the second data centre was needed to ensure business continuity for Internode and its customers. "The new centre is essential for our own network needs and those of our growing customer base," he said.
"A significant driver for this project is a response to the massive growth in customer interest in co-locating servers attached to the Internode international network."