Internode has reduced the power consumption and increased the performance of its web servers, by introducing virtualisation at its two major data centres.
Internode slashes power use with virtual web servers
20-09-2007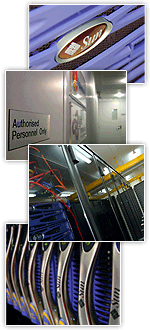 Since the start of this year, Internode has progressively introduced the 'virtual server' technology to its operations, firstly to meet its internal needs and, most recently, for customers. This technique creates multiple 'virtual server' environments that more efficiently share the resources of available physical servers.
As a result, Internode has reduced the number of physical servers dedicated to web hosting from 11 to five, while at the same time more than doubling its web-serving capacity, creating a total of 30 'virtual servers'. Immediate benefits include close to halving of power consumption by Internode's web servers, reduced demand for air conditioning use and less pressure on server rack space in its data centres.
Internode has also passed on the benefits of this improved operational performance, with the launch of a new range of web hosting services for small to medium businesses. Customer benefits include lower costs, combined with improved features, performance and availability.
Internode Business Web Hosting Product Manager Jim Kellett said virtualisation technology allowed Internode to deliver an even better web hosting service for its business customers. "It's a wicked platform, with half the servers packing twice the punch," he said. "At Internode, we typically build a 'best of breed' platform for our own operational purposes, and subsequently extend the same platform to deliver great value to our customers."
"Virtualisation makes a far more efficient use of servers and eliminates single points of failure, especially as we have spread the physical servers and data storage across its two major data centres. If one of the physical servers fails or a data centre is compromised, then the system immediately transfers the load to other servers or the other data centre with minimal disruption."
"There's also a 'green dividend' from this investment because with server virtualisation we draw half the power and require less air-conditioning, compared to the 11 physical servers we are retiring."
Internode has deployed five Sun x4100 servers running VMWare version 3.0, delivering about 30 virtual servers for its internal and customer web-serving requirements.
Internode currently hosts about 1500 customer websites, ranging from simple, single-page presences to sophisticated database-driven e-commerce sites. The new platform has been engineered for scalability. Internode has introduced three new plans to address the range of business requirements:
Static Web Hosting suits the entry-level web-hosting requirements of small businesses, using static files such as HTML, JPEGs and PDFs on simple sites with moderate traffic volumes.
Dynamic Web Hosting supports a more sophisticated website with dynamic content, suiting many medium business websites and backed by a 99.9 per cent availability Service Level Agreement
Database Web Hosting is the high-end service, supporting websites with databases and/or high traffic volumes, making it ideal for customers with more demanding hosting requirements.
All data on customer websites is backed up on a 24-hour or 12-hour cycle, depending on the plan. Each plan is available for either Windows or Unix-based websites. Planned product developments include fully customised, high availability 'virtual private servers' for both Internet and Intranet applications.