Internode's Regional WiMAX rollouts are going "gangbusters" despite today's announcement that the Federal Government has cancelled its OPEL regional broadband agreement.
Internode's rural WiMAX rollouts power ahead
02-04-2008
Today, Optus and Elders announced that the Federal Government had cancelled their OPEL contract to build a WiMAX-based broadband network. In June last year, Elders' parent Futuris and Optus, in a joint venture called OPEL, were awarded $958 million by the Coalition Government to construct a broadband network for rural and regional Australia.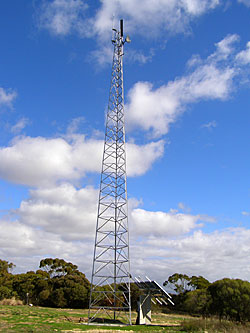 Internode managing director Simon Hackett said Federal support for its Yorke Peninsula rollout was completely separate from the OPEL deal. "It's full steam ahead with our regional roll-outs," he said.
"The Internode regional roll-outs on the Yorke Peninsula and in the Coorong region are completely unaffected and are going gangbusters. Our regional partners are flat stick connecting new customers to our WiMAX network, so it is delivering the benefits that we committed to."
WiMAX (Worldwide Interoperability for Microwave Access) is a telecommunications technology, based on the IEEE 802.16 standard, which can deliver wireless communications over large distances.
Internode has reported that, with good line of sight, its customers are achieving speeds as fast as six megabits per second at distances up to 30 kilometres from the base station.
Last month, Internode won a prestigious telecommunications industry award for its deployment on the Yorke Peninsula of Australia's first region-wide, wireless broadband service using the WiMAX standard. At the annual Australian Telecommunications User Group (ATUG) awards ceremony in Sydney, Internode won the ATUG Excellence Award for the Best Regional Communications Solution, recognising Internode's outstanding achievements in innovation and services to end users.
Internode started construction of its high-speed wireless network in 2005, establishing a series of towers along the "spine" of the Yorke Peninsula, a largely rural area west of Adelaide. This provides line-of-sight connectivity to coastal communities that are too far from telephone exchanges to use ADSL-based broadband services, for the same price as customers who live in metropolitan areas.
Mr. Hackett said wireless broadband would continue to play an important roll in delivering rural broadband services alongside the Government's planned Fibre to the Node (FTTN) network. "FTTN can't work in outback Australia because of the large distances involved, so I strongly suspect that wireless remains the key answer in the bush," he said.
"This may create new regional broadband opportunities for Internode because we know how to do it and make it work right."
Internode is already replicating the successful Yorke Peninsula WiMAX network to the Coorong, where it has an extensive network based on earlier wireless broadband technology.
Related Links