Internode has today launched its new-look Games On Net network after spending 12 months redeveloping the service to provide faster performance and broader appeal.
Games On Net launch is serious business
01-09-2008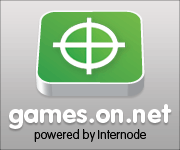 The redesigned games network features a more inviting screen layout, a range of Web 2.0 technologies to create a more compelling gaming environment and new hardware to dramatically improve its performance.
The revamped games network also moves to its own web address at http://games.on.net/.
Games On Net is part of Internode's Content Services Group, which offers a variety of unmetered content including nearly 100 Internet radio stations, OfTheWorldTV, and a mirrored server for SourceForge open source software content.
With mirrored Sun SAN equipment in Adelaide and Sydney, the Games On Net Content Delivery Network contains in excess of 15,000 files - totalling more than two terabytes of data. Currently, the network's most popular games are Team Fortress 2; Call of Duty 4 and Counterstrike: Source and can deliver 200 dedicated games at any one time, with the capacity to handle more than 4000 concurrent users.
Games On Net administrator Richard Burke said the network's visual and structural redesign would extend its appeal for gamers of all ages. "We've chosen lighter, brighter colours to make the network easier on the eyes," he said. "In the future, we will publish more reviews from a wider range of freelance writers, and also publish games content that is suitable for younger people."
"The forums appeal to a wide range of people, including regular members in their 60s and 70s. The new Games On Net is even more appealing to a broader range of age groups."
Richard said the mirrored content, in Sydney and Adelaide, would improve performance by bringing content closer to Australian and international users. "The network's already hugely popular internationally," he said.
Launched in mid-2002, the Internode games network has provided gamers with the best online gaming experience possible. People use the network to play interactive games online, legally download games or demonstration versions of popular new titles, swap hints and information and follow news about the booming area of online gaming.
With servers in SA, NSW, WA and Queensland, Games On Net is one of the largest and most distributed game network services in Australia. The network's server farm has more than 60 game servers, plus web and database servers. Games On Net runs both Gentoo Linux and Microsoft Windows operating systems.