Internode has added free and seamless access to advanced services such as push email and Google Maps for any iPhone using an Internode hotspot.
Internode hotspots put out welcome mat for iPhones
12-09-2008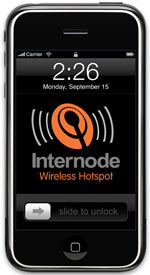 This allows an iPhone user from any network to select the 'Internode' network name at an Internode hotspot and automatically access advanced functions via the hotspot's wireless network at no cost - rather than adding to their 3G data usage.
Internode already offers free Internet access in its wireless hotspots by bringing up a web browser and simply logging in. However, iPhone users at an Internode hotspot can now access advanced Internet services without loading the handset's Safari browser. Advanced iPhone services include:
Access to MobileMe functions such as push email, push contacts and push calendar
Use of Apple widgets such as weather and stock prices
Use of the Apple 'Google Maps' client.
Internode is also offering its customers hotspot access to their Internode email without the need to log in, giving them a smooth iPhone access experience over coffee.
Internode operates more than 100 Internode Wireless hotspots in SA, the NT, NSW, Queensland and Victoria. Details of their location can be found at https://hotspot.internode.on.net/.
Internode managing director Simon Hackett, himself a keen iPhone advocate, said Internode Wireless hotspots now welcomed iPhones. "After your one-off setup, an Internode hotspot now works at WiFi broadband speeds - for free," he said.
"This overcomes a real-world problem where advanced services will fail if your iPhone is configured to automatically connect to a wireless hotspot that requires a manual log on to the Internet."
"Now Internode Wireless hotspots recognise a previously configured iPhone and automatically set up WiFI access. It just works, demonstrating that Internode Wireless hotspots are totally iPhone-friendly."
"The same 'no login required' access also extends to using Internode email and Apple MobileMe and iDisk functions from a Mac or PC laptop in Internode hotspots."