Internode today launches MiFi, a portable device the size of a pack of cards that combines a 3G broadband modem with a wireless access point.
Internode puts a 3G mobile hotspot in your pocket
19-01-2010
MiFi was designed by San Diego-based Novatel Wireless to simplify setting up a small wireless local area network (LAN). The intelligent 3G mobile hotspot supports as many as five WiFi-capable devices such as laptops, notebooks, PDAs, smartphones and gaming systems.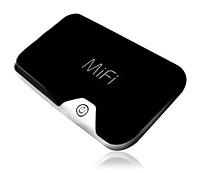 Available from Internode in Australia, the MiFi simply requires a 3G broadband data SIM such as Internode's NodeMobile Data 3G wireless broadband service. As a launch special, the device is $349 per unit (unlocked and with no term contract requirement). The standard price will be $399; with the option of $299 when bundled with a 24-month NodeMobile Data service.
Internode product manager Jim Kellett said MiFi completely simplified setting up a secure wireless network with a broadband connection. "It's a 3G router and an 802.11 b/g WiFi access point that can fit in your shirt pocket," he said.
"MiFi is battery powered, so it can provide a wireless hotspot wherever you are, with Internet access through NodeMobile Data. With this device in your pocket, you can create a wireless hotspot for as many as five devices, without fiddling with software on a laptop."
Internode believes MiFi has broader appeal than just mobile business applications and the "road warrior": It delivers an instant NodeMobile-powered broadband service for the home or a holiday house - with no setup. MiFi can be placed where 3G reception is strongest, using its wireless network to connect devices locally.
MiFi, which runs Linux, has a 10-metre coverage range for its wireless network, which is protected by WPA2 security. With as long as four hours of battery life, the MiFi also comes with an Australian power supply and a USB cable for charging from a computer.