Internode has launched its first major above-the-line advertising campaign in years, in a push to attract disenchanted Telstra BigPond broadband customers.
Kombi campaign targets 'BigPond refugees'
29-03-2010
For the next three months, Internode's guerrilla-style campaign, featuring a blue Kombi van, will run on 29 billboards in Sydney and 10 in Adelaide to boost the profile of its Internode Easy Broadband home ADSL service. Internode's ads will display one of two taglines: "Are you being taken for a ride?" or "If you've been everywhere man, it's probably time for an upgrade".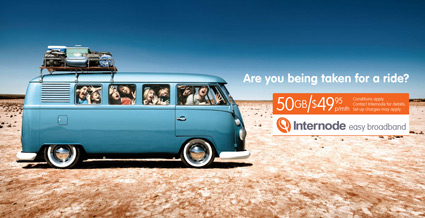 Developed by Adelaide-based agency JAM and media planner Starcom, the cheeky campaign is intended to highlight Internode's reputation for award-winning customer service and good value, high performance broadband to thousands of BigPond customers who are leaving the telco's broadband service each week.
Internode Media manager Tom McQueen said the brief for the agency was to target these "BigPond refugees". "We're telling BigPond customers there is somewhere better to go," he said.
"The idea behind these ads is to communicate with BigPond customers in areas where they live and travel, and to make them question the value they get from BigPond. We believe Internode Easy Broadband, our most popular home broadband plan at $49.95 a month, offers far better value than similarly priced BigPond plans."
"BigPond has more than two million broadband customers and it's losing more customers each week than it gains. That represents a significant opportunity for us to expose them to the Internode brand and the value we offer."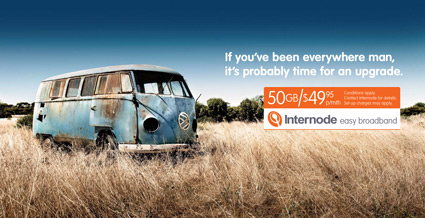 Internode is Australia's largest privately owned broadband company. With more than 180,000 broadband customers and 450 staff nationally, the Adelaide-based company has won repeated customer satisfaction awards during the past six months.
This is the first above-the-line advertising campaign the 19-year-old company has undertaken in years. Since becoming a national broadband provider a decade ago, Internode has used digital and social media marketing - from email and blogs to connecting with its customers via broadband forum Whirlpool and Twitter - to reinforce its reputation for technical excellence and responsiveness.
Mr. McQueen said the targeted campaign, with a budget of $350,000, was intended to add an extra dimension to Internode's marketing mix. "Internode has historically spent very little on advertising due to the strength of our word of mouth referrals," he said.
"While we'll continue with what has made us successful to date, we realise that to reach a new audience we need to communicate with them in a different way. This campaign is an attempt to do that. We think these slightly cheeky ads will help raise awareness of the Internode brand among our target market and position us as a real alternative to BigPond."
The three-month Kombi campaign is running on outdoor, buses and train station sites in Sydney and Adelaide, in areas demographically identified to have high concentrations of "BigPond refugees" . Internode will supplement this outdoor advertising with online marketing including a keyword search campaign using Google AdWords.