Internode has started selling its first sub-$100 ADSL router that can handle IPv6 (Internet Protocol version 6) addresses - the NetComm NB6Plus4 series.
$99 IPv6-ready NetComm ADSL router now available
24-09-2010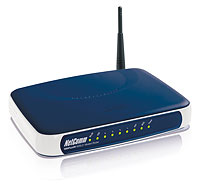 After establishing Australia's first public trial of IPv6 late last year, Internode has developed a strong understanding of the next generation protocol that is needed to keep the Internet running healthily.
The Internet is expected to start running out of IPv4 addresses within the coming year, making the migration from IPv4 to IPv6 a matter of when, not if.
Now, with the sale of NetComm's NB6Plus4 router series, Internode is putting in place the last piece in the IPv6 puzzle - providing affordable IPv6-ready routers for its residential customers.
NetComm is already an established supplier for Internode, which sells its Ethernet over Power devices as well as NetComm's 802.11n Ethernet routers for Fibre to the Home connections.
Internode product manager Jim Kellett said the new NetComm routers would be sold alongside routers from Internode's long-standing supplier Billion. "Internode has built its business around redundancy, so introducing these NetComm routers to our product line-up gives us two extra alternatives," he said.
"Because they can run firmware that supports IPv6 and IPv4 in dual-stack mode, the NetComm NB6Plus4 series routers are both future-proof and affordable, with a price tag starting at less than $100."
"We're also currently evaluating Billion's first IPv6 capable router, the 7800NL, and that's looking good."
While Internode already sells high-end IPv6-ready routers, including Cisco business routers and Apple Airport Extreme Ethernet routers, this is Internode's first IPv6-capable router at this price point.
 The NB6Plus4 router range comes standard with ADSL2+ Annex M capabilities and four 10/100Mbps Ethernet ports. Internode will sell two models in the NB6Plus4 series:
The NetComm NB6Plus4, costing $99
The NetComm NB6Plus4W, which includes 802.11 b/g wireless networking, for $119.
Internode is selling the NetComm routers with a standard 12-month warranty. However NetComm offers an additional 24 months warranty if customers register their product within 30 days of purchase.