Internode is undertaking a $1.4 million expansion of its Adelaide data centre, installing high-density hosting racks that boost available customer capacity by 45 per cent.
Internode boosts Adelaide data centre by 45%
15-12-2010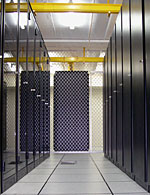 Fuelled by requirements for cloud computing and remote hosting services, Internode expects strong demand for the expanded capacity, which offers N+1 redundancy, at its Adelaide CBD data centre.
Internode launched its state-of-the-art Adelaide data centre in April 2007, substantially expanding the capacity of its two previous data centres. The expansion increases its size by 144 square metres.
While Internode has traditionally provided low density hosting at the rate of two kilowatts (kW) per rack, the extra 18 racks will provide "high density" services with up to 10kW rack allocations. Using 100% GreenPower, the new data centre area is planned to deliver a Power Usage Effectiveness ratio of 1.5 – much more efficient than many data centres, which have a PUE ratio or 2.0 or higher.
Internode's expanded data centre is scheduled to be available from January 2011.
Internode CEO Patrick Tapper said the company expected strong demand for the expanded facility given market conditions and the trend towards cloud computing and co-location services. "We already have a substantial sales pipeline of demand for data centre space," he said.
"Organisations include a number of current clients looking to consolidate multiple racks into a single high-density rack. We also have some interstate clients looking for a remote backup site to enhance their disaster recovery systems and new clients seeking co-location services."
"With that volume of demand, we anticipate no problem in filling our expanded data centre."