A next generation disk storage system that is saving Internode tens of thousands of dollars in power costs annually has won an IBM Green and Beyond Smarter Planet award for its installer, IOCANE.
Internode storage system wins IBM Green award
01-04-2011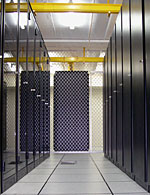 IOCANE received the accolade at the IBM Business Partner awards in Sydney last month after installing the new disk storage system for Internode, which has quadrupled its storage capacity while reducing its power consumption by nearly two thirds.
The IBM XIV Storage System is a revolutionary, high-end, disk storage system with a virtualised grid architecture that eliminates the complexity of storage administration and makes managing storage easy.
Internode CIO Frank Falco said the new IBM disk storage system was a much cleaner greener system to operate, which aligned with Internode's commitment to the environment. "Whereas our previous system used 12.5 kilowatts (kW) per array, our new system consumes just 4.5 kW of power per array, saving us tens of thousands of dollars in power costs per year," he said.
"Another way to look at it is that we've reduced our power consumption from 500 watts per terabyte (TB) of storage to just 50 watts per TB, as we've simultaneously quadrupled our storage capacity."
"Our new storage system is very easy to manage with a straightforward GUI (Graphical User Interface) for system administrators. It's also easy for us to upgrade by adding more modules if we need to grow it in terms of capacity or performance."
IOCANE Sales Manager Jayson Gough said the Internode storage system project stood out because of how closely Internode, IOCANE and IBM had worked together. "We developed a detailed understanding of Internode's requirements, business objectives, power and data centre constraints," he said.
"The integration of the three teams at Internode, IOCANE and IBM meant that the IBM XIV Storage System fitted seamlessly with Internode's requirements, making it a very successful deployment."