Internode today became the first company to deliver the Fetch TV IP Television service over the NBN, showing it in action at a house in the western Sydney suburb of Bunya.
Internode debuts Fetch TV IPTV service over NBN
07-09-2011
Although the multicast service that's typically used to provide IPTV is not scheduled for release on the NBN until mid-2012, Internode has designed a delivery system that allows it to provide Fetch TV today.
The Fetch TV subscription service provides subscribers with Video-on-Demand movies and programming, time-shifted television viewing and a great range of new TV channels. As well as free-to-air TV channels, Fetch TV offers dozens of on-demand TV channels plus special channel packages for subscribers who want TV content from India, Pakistan, China, Singapore/Taiwan, South Korea and the Philippines.
At today's Fetch TV over NBN demonstration in Bunya, Internode delivered a range of video-on-demand content via the NBN including new-release movies, high-definition Luxe TV, the Hindi Pack and The Great Wall TV Pack.  The football club channel for Senator Conroy's English Premier League team, Chelsea FC, was also demonstrated, available as part of Fetch TV's sports pack.
Internode product manager Jim Kellett said delivering Fetch TV over the NBN showed the company's commitment to this new customer channel. "It completes the triple play of data, voice and video," he said.
"Rather than wait for the NBN to deliver multicast, we have worked out how to use existing technology to deliver high-quality video-on-demand using Fetch TV over the NBN."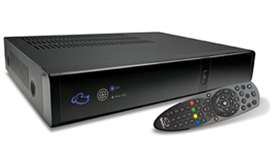 Although every Internode broadband customer has access to the Fetch TV Lite, via its digital PVR, Internode customers with a fast connection, such as the NBN or via an Internode-direct DSLAM port, can upgrade to the Fetch TV Full service, which offers dozens of on-demand TV channels, every new-release movie as pay-per-view on-demand, a selection of 30 free 'library' movie titles each month and a range of free TV show episodes from major studios.
Today's event provides an advance demonstration of Internode's Fetch TV Full service, which will be released over the NBN when the National Broadband Network reaches "commercial" status later this year. Fetch TV Lite is already available throughout Internode's network, including on the NBN.
More Information