Australian broadband company Internode is already using IPv6 (Internet Protocol version 6) to deliver Internet access to more than two per cent of its customers
Internode doubles IPv6 goal number by Launch Day
05-06-2012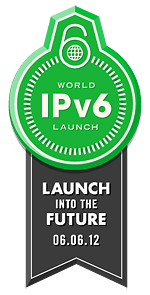 Internode's outstanding achievement distinguishes it as a leader in IPv6 deployment, joining the world's four most visited websites – Google, Facebook, YouTube and Yahoo! – as a key participant in World IPv6 Launch Day.
Internet Protocol (IP) addresses are the numerical addresses used to identify every device connected to the Internet. Although the impending depletion of IPv4 addresses has been recognised for years, the deployment of its mature replacement protocol, IPv6, has been limited to date.
Internode started its journey to IPv6 in 2008. The following year, it launched a 20-month public trial in which hundreds of customers across Australia participated, providing real-world insights and valuable feedback for router manufacturers seeking to offer robust IPv6-ready equipment.
Last year, Internode took part in World IPv6 Day, a 24-hour "real world" test of the new Internet Protocol.  Two months later, Internode launched IPv6 access as a fully supported opt-in choice for all Internode customers. In January this year, Internode deployed IPv6 by default for all new customers.
Internode managing director Simon Hackett said he commended IPv6 to websites, manufacturers and Internet Service Providers. "IPv6 is now ready for prime time," he said.
"During the past five years, Internode has acquired a great deal of understanding from deploying IPv6 on our national and international broadband networks, thereby providing a risk-free pathway for our customers when they use IPv6."
"The most important lesson for Internode is that done right, customers will not even notice the change to IPv6. Internode commends the World IPv6 Launch as the time that website publishers, other Internet Service Providers and all companies manufacturing equipment for Internet access should also enable IPv6 access by default."
Simon Hackett talks about Internode & the World IPv6 Launch
More Information