Internode has launched new NodeMobile plans with a massive 150-gigabyte social networking allowance - perfect for social media hungry customers.
Internode launches social media-friendly NodeMobile
14-08-2012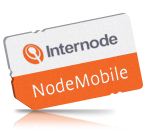 Internode Product Manager, Jim Kellett, said the new plans, ranging from $10 to $40 a month, pack in the value.
"We know that included data and texts are just as important as included calls for many smartphone users," he said.
"That's why we provide generous data quotas, from 200MB for the Starter Plan to 3GB for the Premium Plan. Each plan includes an incredible 150GB per month for use with Facebook, MySpace, Twitter, LinkedIn, eBay and Foursquare."
Internode customers migrating to one of the NodeMobile plans can simply port their existing mobile phone number to the service and insert a $10 NodeMobile SIM card into their existing mobile handset.
NodeMobile Value and Premium customers also benefit from the monthly Calls to NodeMobile inclusion. This value applies to voice calls made from one NodeMobile phone to another, making it ideal for family, friends or a small business mobile fleet.
To reduce the risk of "bill shock", the plans also offer alerts for included voice and data allowances, so customers are informed about how much of their quota is used.
The NodeMobile service is available only to existing Internode customers with a fixed location service such as ADSL, Fibre to the Home or NodeLine.
More Information