Internode today extends its NodeMobile voice service range by launching a $60 per month plan that removes the limits from its included standard calls, texts and calls to NodeMobile.
Internode unleashes $60 NodeMobile plan
20-09-2012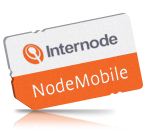 As with all NodeMobile services, the NodeMobile-Sixty plan includes a massive monthly 150-gigabyte (GB) social networking allowance - ideal for social media-hungry customers. This allowance is for Facebook, MySpace, Twitter, LinkedIn, eBay and Foursquare.
Internode Product Manager Jim Kellett said the new $60 plan was perfect for the person who lived on their mobile phone. "The beauty of the NodeMobile-Sixty plan is that it includes all standard calls and text to any network in Australia and all calls to other NodeMobiles," he said.
"It also has an included data quota of 3GB per month, which, combined with the amazing 150GB social networking allowance, makes this a very appealing plan for the heavy user."
Internode customers choosing any NodeMobile plan can simply transfer their existing mobile phone number to the service and insert a $10 NodeMobile SIM card into their existing mobile handset. NodeMobile is available only to existing Internode customers with a fixed location service such as ADSL, Fibre to the Home or NodeLine.
The NodeMobile-Sixty plan completes the NodeMobile product range (www.internode.on.net/nodemobile).
* The minimum price for NodeMobile-Sixty is $75, comprising one month's rental, the one-off $10 cost of a NodeMobile SIM card plus $5 delivery. NodeMobile runs over the Optus mobile phone network, which covers 97 per cent of Australia's population.
More Information