Internode today announces its increased sponsorship for WOMADelaide 2013 to become the Presenting Partner for the four-day festival of world music, arts and dance, held annually in the Adelaide parklands.
Internode presents WOMADelaide for 2013
17-10-2012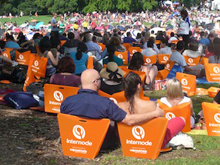 This is the second year that Internode has sponsored WOMADelaide.
Internode founder Simon Hackett said he was delighted to announce Internode's increased sponsorship for WOMADelaide 2013. "WOMADelaide is a flagship event for Internode," he said.
"WOMADelaide provides a great opportunity for Internode to support the arts in our home state, and to promote our presence in our home market through this vibrant, inclusive, and simply wonderful festival. We are thrilled about this substantial increase in our level of support for WOMADelaide."
"As part of our sponsorship, we will also live-stream, in High Definition, a number of performances from 'Internode Stage One' via our national Content Delivery Network (CDN), so we're also making WOMADelaide accessible to music-lovers who can't attend the festival in person."
"It's important to note that these streamed performances are fully rights-cleared, properly negotiated live performance recordings from, and in support of, the artists concerned. It's a win-win in terms of exposure for the artists and the creation of brilliant content available online, both during and after the event, through the Internode CDN."
WOMADelaide marketing manager Nicola Prime welcomed Internode's increased sponsorship. "Internode is a great partner, not only for coming on board this year, but especially for using its network to stream performances and provide free WiFi Internet access for festival guests," she said.
WOMADelaide is part of the global cycle of WOMAD (World of Music Arts and Dance) events held around the world each year. It is a highlight of the Adelaide entertainment calendar, generating an energetic, exciting and colourful vibe. After attracting a near capacity crowd of 87,000 this year, WOMADelaide returns to Botanic Park from Friday March 8, to Monday March 11, 2013.
More Information