Internode will this Saturday stream the live concert of a resurgent Missy Higgins and other great performers from SA's Gorgeous Festival to music fans Australia-wide for free.
Gorgeous Missy Higgins to be streamed Oz-Wide
21-11-2012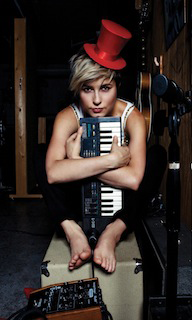 Just like TV over the Internet, Internode's livestream will allow music lovers to look through a high definition window to see and hear the live performance by Missy Higgins, who is in the middle of her national Razzle Dazzle tour - her comeback tour after three years in seclusion. Internode's livestream broadcast will also include other Main Stage performers such as Dan Sultan, The Preatures, Gossling and Butterfly Boucher. Full event details are online at the Gorgeous Festival website.
From 2.00 p.m. on Saturday, November 24, Gorgeous Festival will welcome about 3000 visitors to its one-day celebration of music, food and wine in SA's beautiful McLaren Vale wine region. This is the second year that Internode has sponsored Gorgeous Festival.
Internode Content Manager Heidi Angove said this year's Gorgeous Festival would be even bigger and better than last year - both on site and through the livestream event. "Internode is proud to use its Content Delivery Network to make Gorgeous Festival accessible to many more Australians," she said.
"It's important to note that all the artists involved have agreed for Internode to broadcast their performances, so we're using our skills and excellent broadband network to connect great artists with audiences in a totally legitimate way. Our talented Internode Content team will record, live-edit and post-produce the Gorgeous Festival performances, which will stay on the Internode and Freezone websites, even after the show is over."
Internode's Gorgeous Festival livestream is available to all broadband users in Australia, and is unmetered for Internode and iiNet customers.