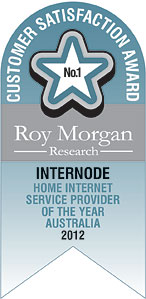 Internode founder Simon Hackett said the award reflects Internode's ongoing commitment to providing great customer service.
"I'm thrilled Internode has received this award for the second year running. Customer satisfaction is the number one priority for us and always will be."
The Roy Morgan Customer Satisfaction Awards are based on the results of monthly surveys among 50,000 customers nationally about their attitudes to service providers and product purchases.
In the ISP category, Internode was the most popular ISP for nine months - with iiNet and Westnet taking top place for the other months.
More Information