Six months after launching its pioneering techii team in Adelaide, Internode today announces that its customers in Sydney, Melbourne, Brisbane and Perth can now book a technical expert to visit their home.
Internode takes techii team national
03-06-2013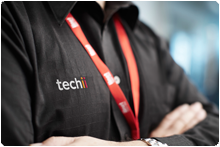 From today, customers in those cities can call Internode on 13 66 33 to book a techii team member to come to their home to set up a broadband connection, install a modem, connect Internet-ready devices to Internode broadband or tweak the best performance from their broadband service.
Internode Product Manager Phil Dempster said the techii team had been very successful in Adelaide. "Customers love the techii team because they make life easier," he said.
"The most common callouts are to set up new services or to integrate multiple devices throughout the house. Our customers love that everything is typically up and running within the first hour of the visit."
"It's worth noting that members of our techii team are staff from our contact centres, not external contractors, so you get the real deal in our award-winning customer service."
The techii team allows Internode customers to book a technical expert to visit their home to deliver in person the company's renowned customer-friendly technical expertise. A techii can assist customers to get their broadband service up and running, configure their wireless network, set up Fetch TV or connect their PCs, laptops, tablets or smartphones to the Internet or simply provide general tech advice
A one-hour on-site techii team visit costs $99. Initially, the techii team covers metropolitan areas as far as an hour from the city's CBD.
Internode customers can book a one-hour techii by calling Internode Sales on 13 NODE (13 66 33), or when signing up online for a new product.