Internode today announces that it will sponsor Startup Weekend Adelaide, an intense 54-hour event that brings together young entrepreneurs aiming to build compelling commercial web or mobile applications.
Internode sponsors next generation of entrepreneurs
02-07-2013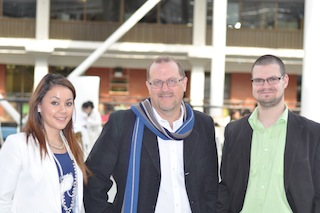 Internode founder Simon Hackett, who built his own 1991 South Australian start-up into a major national success over more than 20 years, is a guest speaker at the Friday night launch of the July 12-14 event.
Startup Weekend Adelaide is part of a global grassroots movement of entrepreneurs who are learning the basics of founding startups and launching successful ventures. It has created the world's largest community of passionate entrepreneurs with more than 400 past events in 100 countries during 2011.
Simon Hackett said Internode's sponsorship of Startup Weekend Adelaide was an important investment in the city's entrepreneurial future. "Just as I was encouraged by people when I started out, Internode aims to encourage these entrepreneurs to build the next generation of successful businesses," he said.
"Personally, I look forward to meeting some Startup delegates. Starting a business is often the beginning of a long and at times lonely journey and every successful entrepreneur can tell you about the 'near death experiences' they survived along the path. I believe events such as Startup Weekend Adelaide play an important role in sharing experiences that will help equip these young entrepreneurs for the journey."
As a gold sponsor for Startup Weekend Adelaide, Internode will contribute cash, prizes and technical support for the event, and even give away a number of Internode's iconic NodePonies.
Now in its third year, Startup Weekend Adelaide will be held at Adelaide University Hub Central, on North Terrace.
More Information: