Boldly going where no ISP has gone before, Internode has recruited aliens for a major advertising campaign in SA, inspired by its sponsorship of Australia's largest anime and video games convention, AVCon.
Internode embraces AVCon with Klingon campaign
08-07-2013

Internode is a gold sponsor for AVCon, the largest annual event held at the Adelaide Convention Centre, which expects to attract 20,000 people this weekend, many wearing spectacular sci-fi and fantasy costumes.
Internode is currently running a radio and television advertising campaign that features Klingons, the leathery, ridge-headed warrior race of aliens that was spawned by the Star Trek TV series.
The campaign includes a TV ad developed by award-winning Penguin Empire director Grant Sputore, who is renowned for an SA train safety ad that shows what horsepower really means.
Internode founder Simon Hackett, who announced Internode's AVCon sponsorship, said the Klingon advertising campaign was fun. "It makes the point that Internode really is a special company," he said.
"Just so people don't think we're obsessive about Star Trek, we have versions in Dothraki and Elvish as well."
Internode's campaign ads invite people to translate messages from Klingon (Star Trek), Elvish (Lord of the Rings), or Dothraki (Game of Thrones) in order gain a $100 credit for a new broadband service.
The two-month campaign will also embrace Internode's sponsorship of AVCon 2013, which runs at the Adelaide Convention Centre from July 12-14.
As well as a substantial cash contribution to AVCon, Internode will provide free Internet access and will stream filmed events from the convention on its Freezone web portal. AVCon plans to turn the entire convention centre into a gigantic wireless hotspot for all its delegates.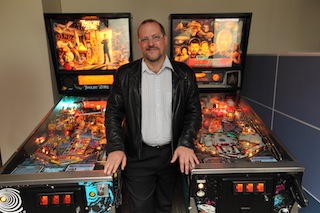 As well as limited edition Klingon t-shirts, Internode will provide attendees with a Klingon phrase in the AVCon program that they can decode at the Universal Translator booth to receive a $100 credit offer.
AVCon PR Coordinator Dustin Wilson said Internode's Klingon campaign was "out of the this world". "It's awesome that Internode has taken its AVCon sponsorship to a whole new dimension," he said.
"We know this is going to be the biggest and best AVCon ever, so we're really grateful to Internode for helping make it happen."
AVCon has also received an encouraging message via diplomatic communiqué from the Klingon ambassador: "Internode lo' wo' aeons. latlh vay' wej yIvoqQo' SuvwI' veS QumpIn."
Run through the Universal Translator, that translates into English as: "The empire has been using Internode for millennia. Warriors would not trust anyone else with battle communications."
More Information: