Internode today launches its first 4G NodeMobile phone plans, packed with great features, generous data quotas, and an absence of lock-in contracts.
Internode launches 4G NodeMobile plans
16-07-2013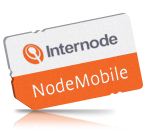 This good news comes with an announcement that 25 new 4G sites in Adelaide, and more than 150 upgraded 3G sites have been completed by our network provider - which means that customers will benefit from stronger signals and better indoor coverage.
Starting at $15 a month, Internode's new NodeMobile plans give customers access to 4G network speeds at great prices. Data quotas range from an entry-level 200MB to 3GB for the $60 service.
Internode customers can choose to combine one of its popular 4G-capable handsets with the plan of their choice - without the pain of signing a fixed-term contract. Internode offers two 4G-ready handsets: The Samsung GALAXY S4 and the Samsung GALAXY Note II.
Mobile Product Manager Marcus Hecht said Internode's new 4G mobile plans were designed to deliver more value for customers. "They give our customers access to 4G speeds with generous quotas at great prices," he said.
"Our customers are always looking for ways to get even more use out of their mobile. Now, with ultra-fast 4G speeds, they will experience less buffering, improved audio quality, and smoother streaming services as a result of reduced lag."
Internode's 4G NodeMobile plans provide a range of great value, so customers can choose the best plan for their needs. The $30 per month plan includes all SMS, while $45 plans also include all NodeMobile to NodeMobile calls. The $60 plan includes all calls to national landlines and mobile numbers.
Internode offers its customers flexibility with no lock-in contracts, so they can chop and change their SIM-only plans to suit their needs.
Terms and conditions apply:
Total Minimum Cost (TMC) comprises the monthly cost of the plan plus usage costs and $20 for SIM cost including delivery. Starter 15 TMC is $35; Value 30 TMC is $55; Premium 45 TMC is $65; and Platinum 60 TMC is $80). You must also have an Internode broadband service to qualify for NodeMobile plans.
More Information: