Internode will culminate its six-month rollout of the City of Adelaide free WiFi network by again providing free wireless Internet coverage at the Adelaide Fringe in 2014 as a major partner of Australia's largest arts festival.
Internode sponsors Adelaide Fringe with free city-wide WiFi
24-09-2013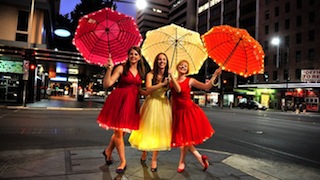 In reprising its role as a major sponsor, Internode will deliver free Internet access via hotspots at the Fringe Club, Rundle Mall, and other Adelaide Fringe locations. Internode has sponsored Adelaide Fringe for more than a decade.
Internode's Adelaide Fringe partnership and its concurrent Presenting Partner sponsorship for WOMADelaide 2014 will come as two major projects effectively turn the Adelaide CBD into one enormous WiFi coverage zone. These projects are upgrading Internode's Adelaide Citylan network and deploying the $1.5 million City of Adelaide network, which is supported by the SA Government and the Adelaide City Council.
Internode founder Simon Hackett said Internode's partnership with the Adelaide Fringe demonstrated the company's commitment to the arts in SA. "At Internode, we love the Fringe," he said.
"March is a marvellous month in Adelaide with a wonderful choice of activities, from Fringe acts to the WOMADelaide long weekend. Internode is honoured that we can make this experience even better for residents and visitors to our fine city by providing free wireless coverage."
Running from February 14 to March 16, 2013, the Adelaide Fringe is Australia's largest arts festival, offering more than 900 events at pop-up venues in parks, warehouses, lane-ways and empty buildings as well as established venues such as theatres, hotels, art galleries, cafes and town halls.
Internode will also offer Fringe Favourites, a free facility that lets any festival attendees shortlist their must-see, planned or favourite performances. From any page on the Adelaide Fringe website, Internode Fringe Favourites will provide the online functionality to let Fringe dwellers plan and share their festival itineraries, just like building a personalised music playlist.
Internode will again be a Program Partner for the 'Fringe in the Mall' showcase for Fringe artists in Rundle Mall, with its brand displayed prominently in the Fringe Guide, website and iPhone app.
More Information: