Willunga Farmers Market has embraced an Internode-delivered NBN service to show how great produce, hard work, and creative communication have rejuvenated a sidelined country town.
NBN extends reach for Willunga Farmers Market
29-10-2013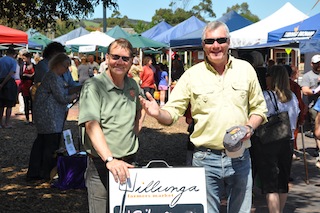 When the highway from Adelaide to Victor Harbor bypassed Willunga in the 1990s, the Southern Vales town suffered enormously, with some shops closing their doors because of the drop-off in trade.
Launched in 2002 to re-attract people to the town, Willunga Farmers Market generated more than $100 million in economic value for the local area in the next nine years. Today, Willunga flourishes each Saturday morning, with artisan stores, craft shops and cafes along High Street filled with visitors.
Since late 2011, Willunga Farmers Market has used an Internode-delivered National Broadband Network (NBN) fibre service to boost its visibility through more regular newsletters, a "Virtual Tour" and real-time call-to-action marketing.
Willunga Farmers Market Chair Steve Scown said the NBN had made it easier for the market to communicate with its community. "We have 1600 active members on our database and 3500 subscribers to whom we email a quarterly newsletter to promote the market," he said.
"Before the NBN came along, that newsletter used to take half a day to set up and send out while our website was difficult to maintain. Our slow broadband service meant we couldn't make the progress we wanted. Now, even when our newsletters have an attached PDF, we just hit Send and it goes."
Each Saturday morning, Willunga Farmers Market attracts scores of stallholders and thousands of shoppers to the picturesque town in the heart of the Fleurieu Peninsula. In 2011, a Flinders University study identified that more than 800,000 people had visited the market during its first nine years of operation, spending more than $40 million. Based on a conservative three-fold economic multiplier, this contributed more than $100 million in economic activity to the Willunga region.
In late 2011, Willunga Farmers Market became one of the first businesses in South Australia to connect to the NBN. The market uses an entry-level Internode NBN Bronze - 12/1 service.
Since Internode connected it to the NBN, Willunga Farmers Market has experienced major benefits. An immediate advantage was distributing electronic newsletters. The quarterly e-newsletter is now so quick to produce, that the market publishes interim editions with latest news and seasonal highlights.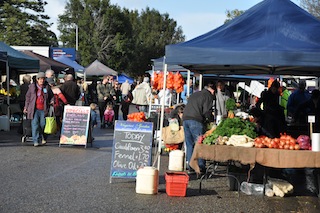 Mr. Scown said the biggest benefits of the NBN were its speed and immediacy. "With only three staff on deck and an average of 2500 to 3500 visitors on a Saturday morning, we're always busy."
"The Willunga Farmers Market Facebook page has 3800 followers. Each Saturday morning, one of our staff uploads a photo and story about an interesting product for that week. The call to action is incredible. Whatever's featured sells out.
"The NBN has changed the way we promote the market. Now it takes just seconds to upload a photo to our Facebook page whereas before we could spend 10 minutes in the office uploading just one. The NBN has definitely helped us get more in touch with our customers."
The improved broadband speed has also allowed Willunga Farmers Market to enhance the capabilities of its website with an interactive Virtual Tour of the market. The tour lets you "walk" through the market, search for a supplier by name or stall number or just click on their location to view photos of the stall, its products and the farm that produced them.
Mr. Scown said the market's Virtual Tour helped consumers learn more about the farmers. "The key to this is that we're not selling a product, but a lifestyle and a relationship," he said.
"It's about getting to know your grower and your farmer. We also use it to educate people about food seasonality. Websites are good for in-depth information, but to develop a relationship with a customer, it has to be interactive, which needs speed and bandwidth. That's what the NBN gives us."
More Information