For the fourth year, WOMADelaide Presenting Partner Internode will let music lovers around Australia enjoy electrifying acts from the world music festival via the Internet.
Internode streams WOMADelaide to the world
03-03-2015
From Friday through to Sunday nights, a talented Internode team will film, mix, and transmit a high-definition video and audio livestream of performances from the Internode Centre Stage, the main stage at WOMADelaide, which runs March 6-9. These free livestreams can be found at Internode's Freezone.
Internode today announces five WOMADelaide performers who have consented to livestream their performances via broadband. These include: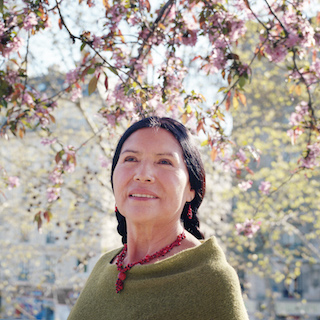 Luzmila Carpio
(Saturday at 4pm CDT)
The Painted Ladies (Friday, 6pm CDT)
A project that brings together the next generation of contemporary Aboriginal and Torres Strait Islander artists to revisit and revive Australia's first black protest songs.
Luzmila Carpio (pictured right, Saturday, 4pm CDT)
A Bolivian singer who celebrates the ancient songs and cultural ways of the Andes by singing in the 2000-year-old Quechua tongue with a mesmerising voice that Yehudi Menuhin described as a "singing violin".
Balkan Beat Box (Saturday, 6pm CDT)
An Israeli musical group that plays Mediterranean-influenced music incorporating Jewish, Eastern European (mainly Balkan) and Middle Eastern traditions, Gypsy punk, and electronica.
Jupiter & Okwess International (Saturday, 8pm CDT)
A charismatic band that emerged from street musicians in
Kinshasa, Congo.
Fanfare Ciocarlia (Sunday, 5pm CDT)
A lauded Gypsy brass band from Romania (photo below).
Internode will also stream a number of sessions from WOMADelaide's Taste the World tent, where performers explain and demonstrate cooking their favourite recipes.
Fanfare Ciocarlia
(Saturday at 6pm CDT)
Performers regard livestreaming as a "win-win" for all concerned, giving valuable exposure for the artists and creating great online content for Internode, even after WOMADelaide.
Last year, nearly 5000 livestreams flowed from Adelaide's Botanic Park during the event, making WOMADelaide 2014 Internode's most successful livestream event ever, with 50 per cent more demand than in 2013. In addition, music fans downloaded more than 4000 video-on-demand versions of these HD recordings in the week after they appeared on Internode's Freezone website.
Jupiter & Okwess International
(Saturday at 8pm CDT)
That demand represents an additional 10 per cent of the 90,000 people who attended WOMADelaide last year.
Internode also operates the Internode Lounge, a cool tent where festival goers can access free Wi-Fi, drop in for a coffee, a gelati, and a quick phone recharge from its free Chargebar.
Alicia Phillis, sponsorship manager for Internode, said its partnership with WOMADelaide projected the iconic event beyond the confines of Botanic Park. "Internode has taken its sponsorship to a new level and music lovers Australia-wide are the winners," she said.
More Information