Internode has completed its 12-month management restructure by appointing Liz Cornelissen to the newly-created role of Chief Operations Officer.
Last piece of the puzzle in place with new COO
08-09-2009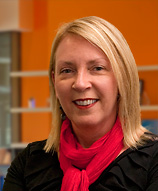 Ms. Cornelissen has commenced this new position six years after she first joined Internode as its Customer Services Manager, a role that assisted Internode to maintain its reputation for excellent customer service during a period of massive growth in customer and staff numbers.
During the past year, Internode has revamped its management structure to allow it to continue its strong growth through product diversification and increased geographical availability. The restructure includes:
Appointing long-time group general manager Patrick Tapper to the role of CEO
Promoting Financial Controller Sean Habgood to Chief Financial Officer
Internode founder Simon Hackett continues his role as the company's managing director. Internode has also established the Internode Media group within its operations to oversee the design and delivery of a range of higher-level services such as video over broadband services.
Internode CEO Patrick Tapper said he was pleased that Liz Cornelissen had accepted the role of COO. "Liz has a wealth of experience that she brings to the role," he said.
"As well as more than six years leading our Customer Services group at Internode, she previously held senior management positions with Reuters and AAP, leading customer service teams operating in Asia and Australia. As COO, Liz's primary responsibilities will be to lead and manage our business units in Customer Services, Sales, Media, Product Management and the Business Programs."
"The COO role is a new one within Internode and will be key in leading a number of important transformations for the business."
Internode is the largest independently-owned broadband services company in Australia. The company has quadrupled in size during the past four years: It now has more than 430 employees and 150,000 broadband customers nationally, most of whom are outside its home state of South Australia.
As the broadband market matures, Internode has begun delivering a range of new revenue-generating services including Naked ADSL2+, Internode Business Connect (IBC) private IP networks, the NodePhone Voice over IP (VoIP) service and managed data centre facilities. It has also launched the breakthrough Internode Easy Broadband service, now its best-selling broadband product.
Liz Cornelissen said her role was to ensure Internode maintained and improved quality as it grew. "We need to focus on our core business and ensure we maintain superior customer service and innovative products," she said.
"We'll continue to do that by having great quality service, adding plenty of extra value for our customers and staying ahead of the industry. There's more diversity in the marketplace today, which makes it highly competitive, but I think Internode is better placed to succeed in the next few years than it has ever been. I am very excited to be playing a central role in the company's future successes."