Internode today launches the Huawei E5832, a personal wireless hotspot router that can share a 3G Internet connection with up to three WiFi-enabled devices.
Hip hip Huawei for new $49 mobile WiFi hotspot
30-05-2011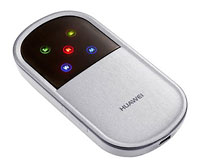 Internode is selling the Huawei E5832 for $149, on its own or with a NodeMobile Data SIM card on a monthly contract. Bundled with a 24-month NodeMobile Data contract, the Huawei E5832 costs just $49.
Internode has responded to market demand by releasing the high performance Huawei WiFi 3G connection-sharing device to provide easy, cost effective mobile broadband access. The Huawei E5832 replaces the MiFi 2352 mobile hotspot, which was launched last year for $349.
By simply turning on Huawei E5832's WiFi switch, users gain immediate access to a high-speed mobile broadband network via a 3G carrier. The device creates a secure personal WiFi hotspot, enabling the wireless connection of devices such as notebooks, digital cameras and games consoles.
The Huawei E5832 weighs less than 100 grams and fits easily into a pocket or handbag. It can also function as a storage device, via a microSD card slot.
Internode product manager Jim Kellett said the Huawei E5832 provided the ideal device for sharing 3G Internet access among multiple devices, such as the WiFi-only version of Apple's iPad 2. "It's easy to set up, has a great battery life and is very affordable, especially if you bundle it with a 24-month NodeMobile Data account," he said.
Internode's Huawei E5832 is not network locked, and supports 3G HSDPA/HSUPA at both 900 and 2100 MHz. 802.11b&g WiFi protocols are supported, and the package includes a rechargeable Lithium battery, USB cable and AC charger.