Announcing Business Mobile voice plans designed for business users, including 'fleet' call incentives, a 150GB social media quota on all plans, and international call credits on the top tier Business Mobile 69 plan.
Internode means business with NodeMobile
20-11-2012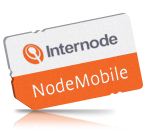 Internode's SIM-only Business Mobile voice services are in addition to its social media-friendly NodeMobile services, launched earlier this year. Find NodeMobile details at www.internode.on.net/nodemobile/.
The Internode Business Mobile plans range from the entry-level Business Mobile 15, for $14.95* a month, to the $69* a month Business Mobile 69, which includes all standard calls and texts, calls to other NodeMobile users plus $100 a month in international calls credits.
Internode product manager Jim Kellett said the new Business Mobile plans gave business customers more choice in mobile voice services. "These plans include features that appeal to business users," he said.
"A popular component of our mobile plans is they all include credits for calling other NodeMobiles, effectively treating all NodeMobile customers as a single 'fleet'. This allows NodeMobile customers to make regular calls to their colleagues, friends, and family members who also use NodeMobile without eating into their standard calls and text allowances."
The following table contains details of Internode Business Mobile Plans.
Monthly Plans &
Included Value
Monthly
Price *
Standard
Calls & Text
Calls to other
NodeMobiles
Standard
Data
Social
Media

† Read more: Total Minimum Costs | Setup Fees | Equipment Requirements | Terms & Conditions

Business
Mobile 15
$14.95 †
$225 †
$135 †
200 MB †
150 GB †
Business
Mobile 29
$29.00 †
$660 †
$1,000 †
1.5 GB †
150 GB †
Business
Mobile 49
$49.00 †
$860 †
$1,800 †
3 GB †
150 GB †
Business
Mobile 69
$69.00 †
All Included
+ $100 International †
All Included †
5 GB †
150 GB †
* The total minimum cost for a NodeMobile Business Mobile service is $29.95 for the Mobile 15 Plan, $44 for the Mobile 29 Plan, $64 for the Mobile 49 Plan and $84 for the Mobile 69 Plan, being one month's rental plus the one-off cost of $10 for a NodeMobile SIM card plus $5 delivery. Additional usage charges apply for usage above included value limits. The following Standardised Cost Information applies to NodeMobile:
A two-minute national mobile call will cost $2.15.
A standard national mobile SMS will cost $0.25.
One megabyte of data within Australia will cost $0.20.
More Information: