Australia's top home ISP Internode today provides its customers with even more choice by launching five Samsung handsets to go with its popular NodeMobile service.
Internode launches new NodeMobile handsets
09-04-2013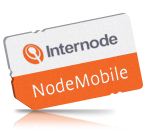 Declared Home Internet Service Provider for 2012 at the recent Roy Morgan Research Customer Satisfaction Awards, Internode last year launched its SIM-only NodeMobile plans, which range in price from $10 to $60 a month, including a massive 150-gigabyte social networking allowance.
From today, Internode offers four Android-powered handsets: The Samsung GALAXY Ace, the Samsung GALAXY S II, the Samsung GALAXY S III, and the Samsung GALAXY Note II (available either titanium silver or white). Internode's fifth handset is the Samsung ATIV S, which runs Microsoft Windows Phone 8.
Handsets are available for outright purchase or on a repayment option to customers with NodeMobile.
Internode Product Manager Phil Dempster said the addition of Samsung handsets made life even easier for Internode customers. "Our NodeMobile SIM-only plans have been very popular," he said.
"The launch of these great Samsung handsets for rent or purchase now makes it even easier for customers to obtain all their mobile needs from Internode."
New customers can order a handset while signing up for a NodeMobile service while existing NodeMobile customers can use their My Internode portal.
The mobile handsets are only available with a NodeMobile SIM plan. For more information about prices and purchase conditions, please visit the links below:
More Information:
See our range of NodeMobile Handsets