Internode today reveals that 10 per cent of its national customer base now actively accesses the Internet using IPv6 (Internet Protocol version 6).
IPv6 use tops 10% of Internode customers
05-06-2013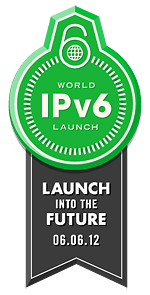 As the global technology community celebrates the first anniversary of World IPv6 Launch Day, Chief Technology Officer John Lindsay revealed this latest milestone of Internode's IPv6 deployment.
During the past 12 months, the adoption of IPv6 by Internode customers has increased by 400 per cent. Internode reported IPv6 usage of two per cent at the World IPv6 Launch event held on June 6, 2012.
Internode has IPv6-enabled all new customer connections since January last year. All customer access routers sold by Internode are also now IPv6-enabled "out of the box".
John Lindsay said Internode's experience demonstrated that IPv6 deployment could occur with no inconvenience for customers. "IPv6 is necessary for the continued growth of the Internet," he said.
"Internode is proud that our leadership in seamlessly deploying IPv6 for our customers has blazed a trail for other Australian and international ISPs to follow."
Last year, Internode was acknowledged for its long-term IPv6 deployment leadership when it received an Australia & New Zealand Internet Award (ANZIA) for its work delivering IPv6 in Australia.
More Information
Previous Press Releases about IPv6