Adelaide-based broadband entrepreneur Simon Hackett has scored a national accolade by taking the top technology title in the Bulletin magazine
Internode's Simon Hackett Tops Technology Smart 100
06-10-2004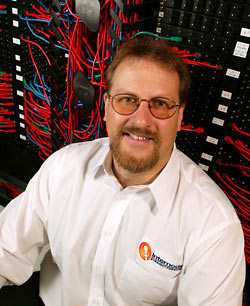 Adelaide-based broadband entrepreneur Simon Hackett has scored a national accolade by taking the top technology title in the Bulletin magazine's Smart 100 list.
The Chief Executive Officer of national broadband innovator Internode and its wholesale partner Agile Communications is attending a lunchtime presentation in Sydney today to collect The Bulletin-Microsoft Smart 100 IT & Communications Award, which recognises his role as "thinker and a doer…a businessman who proudly wears his tech-savvies on his sleeve".
Internode and Agile, both Adelaide-based, are making a strong impression nationally as broadband Internet technologies change the dynamics of the highly competitive communications industry.
Last month, Agile Communications beat Telstra and Optus to collect the Australian Telecom Award as this country's top Broadband / Corporate Wholesale carrier. The same week, Agile announced that by Christmas it will equip telephone exchanges in SA and Victoria with turbo-charged ADSL2 broadband services that operate five times faster than current top speeds.
Internode, a 13-year-old company that has most of its customers located outside SA, is widely recognised for its high quality of service. Last week, Internode threw down the gauntlet to rivals by launching excess-free, no-contract broadband deals for its Home Broadband customers.
The Smart 100 drew attention to Simon Hackett's commitment to delivering the benefits of 21st century broadband technology to Australians living in regional and remote areas. "We're in the three to five-year period when the long distance phone call finally dies," he told The Bulletin. "And we're trying to be one of the catalysts that makes it happen."
Simon's involvement with the Internet pre-dated Internode's founding by nearly a decade. After graduating from The University of Adelaide in the mid 1980's, Simon worked for the university's IT division. There, he was involved in a project that introduced the Internet to Australia through the creation of the nationwide AARNet academic network. "I was in a good place at a good time," said Simon. "I learned how to build national Internet networks by helping to create the first one in Australia."
Since 1994, Internode has established itself as a national broadband innovator, providing a comprehensive range of Internet access and associated professional services. Under Simon's hand, the privately held company has grown to have more than 100 employees, a national Tier 1 broadband network and Internet points of presence Australia-wide. Simon also established Internet-age telco Agile Communications.
When not running Internode, Simon pursues three passions: family, fast cars and flying. Simon, 39, enjoys taking his black 1985 Ferrari 308GTS convertible - an object of desire for more than a decade - to the Mallala racetrack near Adelaide, where, equipped with a helmet and fire extinguisher, he attempts to beat his previous best time.
Simon fell for his third great love - flying gliders - while at university. He pilots sailplanes competitively and flies at scenic locations, from the Flinders Ranges to Mt Kosciuszko. "Gliding is like three-dimensional yachting," he said. "I love flying. It keeps me sane. It's great to be alive when you're 10,000 feet in the air sharing a thermal with five eagles. When you're flying a glider, nothing else matters. The pressures of the world are gone."