Internode's just-released iPhone application, which makes it easy for customers to interact with the company, has already become one of the most popular free programs in Apple's App Store.
iPhone application popular with customers
09-04-2009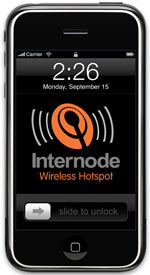 The NodeInfo app provides Internode customers with usage details for their broadband account, company news, network advisories and contact details for Internode departments. It also offers quick configuration guides for the company's broadband network, a great tool for anyone setting up their own router at home or work.
Internode's customers are voting with their fingers by downloading the free app from the App Store on to their iPhone or their iPod Touch. Since its launch on April 1, the NodeInfo app has risen rapidly in Apple's popular download table to become one of the top 50 most popular free iPhone apps in Australia. The iPhone App Store is reported to contain more than 25,000 downloadable apps.
Internode has also launched an iPhone app to make it easy for anyone to find and use its rapidly growing network of wireless hotspots. The NodeWiFi app lists any Internode wireless hotspot within a user-defined distance, as far as 10km, from their current location.
The launch of these apps further enhances Internode's reputation as an iPhone-friendly company. Last year, it reconfigured its hotspot network to give iPhone users free access to all iPhone widgets - such as MobileMe email, Google Maps, stocks and weather - without needing to log in.
As well as covering much of the Adelaide central business district, free Internode hotspots are located at many popular shopping areas of suburban Adelaide. Hotspots are also at Adelaide International Airport, Darwin International Airport, Newcastle and Rockhampton airports and a growing number of places in Brisbane, Sydney and Melbourne. Internode recently created a free hotspot to cover the entire Melbourne Cricket Ground (MCG).
Internode managing director Simon Hackett said the NodeInfo and NodeWiFi apps complemented the convenience of the iPhone. "The iPhone is a great communication device, so we're using it to communicate with our customers and to help them interact with us," he said.
"As well as news and network advisories, NodeInfo provides usage details of your broadband account, updated regularly, so you can quickly and easily see where your download quota stands."
"The NodeInfo app also has a company contact directory: To call a listed number or email an address, all you do is press on the touchscreen and the iPhone does the rest."
"This is just the start of Internode making life easier for our customers. Now we know what's required to create a great iPhone app, we're working on a lot of other cool and exciting plans."