Transferring to an NBN Fibre to the Premises service? Learn how to transfer, what needs to be installed in your home, what to get ready for installation day, and more!
Transferring to NBN Fibre to the Premises
How do I transfer my ADSL to NBN FTTP?
Visit our NBN plans page and enter your address to see if the NBN is available in your area. If it is, simply sign up online or call us on 13 66 33. We'll discuss your order with you, including appointment preferences. Once NBN Co confirms your appointment, we'll send you an email or SMS.
Can I transfer an existing NBN FTTP service to Internode?
Yes. To avoid service disruption, we'll connect a second NBN FTTP service to an alternate UNI-D port on your Network Termination Device.
Once the new service is connected, you'll need to cancel your previous service. Your previous provider may charge contract break fees and/or service disconnection fees, under their contract with you. Internode is not responsible for—and has no control over—those fees.
How will upgrading to NBN FTTP affect my existing services?
Your current landline phone and ADSL services may remain connected—at least initially—once you connect to NBN FTTP. They may also be cancelled automatically depending on how you transfer to NBN FTTP. If you're transferring your landline phone number at the same time, this will likely cause the automatic cancellation of your ADSL broadband.
Please note: Access to services on the copper network will be removed approximately 18 months after NBN FTTP is ready in your area. If you'd like to keep using your phone number, you'll need to transfer it to NBN Phone as part of your NBN Broadband order.
Will there be any downtime while I switch from ADSL to NBN FTTP?
Because ADSL and NBN FTTP use different technologies, there should be no downtime while you switch. To avoid disruption, we can keep your ADSL connected right up until your NBN service is installed and working. Or if you prefer, you can phone us when you'd like your ADSL disconnected.
How long does it take to get connected to NBN FTTP?
Installation time-frames vary, depending on demand in your area and the availability of NBN Co installers. If your NBN FTTP hardware is already installed, connection usually takes between 1–2 working days. If your NBN FTTP hardware still needs to be installed, connection can take between 5–20 working days.
What do I need to do before the installation appointment?
Have a think about where you want the NBN FTTP Network Termination Device and power supply to be installed. We recommend:
Near your current modem/router (if you have one).
Near your existing phone or network cabling.
Within 1.5 metres of an accessible power point.
In a cool, dry, and ventilated area.
Away from busy areas where it may get knocked or damaged.
Will I need to be at home on installation day?
Yes. You or an authorised representative (aged 18 or older) must be there for the whole appointment. They will need to let the technician in, and advise where the equipment should be located.
What happens on installation day?
Check the technician's ID when they arrive, to make sure they're a contracted NBN technician.

Figure 1: Example NBN technician ID
The technician will ask where you want your equipment installed. They'll also discuss whether the requested work can be performed without charge. Installation might not be possible in some locations due to safety or other considerations (such as the need for extra wiring).
A small trench may need to be dug to run cable if your building doesn't already have a fibre optic cable connected. If the connection comes from overhead, some minor clearing of vegetation may be needed. NBN Co has a strict "leave it as it's found" policy, so there's no need to be concerned about permanent damage.
You may need to move furniture so the technician can access the installation site. Some drilling through walls may be required, as well as holes to mount equipment. Be prepared for some drilling noise and dust—again, the NBN technician will clean up afterwards.
If a fibre cable is already connected to a Premises Connection Device, standard installations take between 2–4 hours. If there is no fibre optic cable connected, a standard installation could take between 4–8 hours.
More time may be needed if you ask the NBN technician to perform a non-standard installation.
What needs to be installed in my home?
If your premises is not already connected, the installer will run a fibre optic cable from the street to a box on the outside of your house. This box is called the Premises Connection Device.
The installer will drill a small hole through your wall and feed the cable through. This will connect to a Network Termination Device, which looks similar to a broadband modem. The Network Termination Device may also have a removable cover. If you've chosen a battery backup, nbn™ will also install a separate power supply box. This includes the battery backup to keep phone services running in the event of a power failure.
You'll be given the opportunity to decide where you would like this equipment installed. Your NBN installation needs to be near a dedicated power point, in a cool, dry, ventilated area. This should preferably be near your existing phone or network cabling.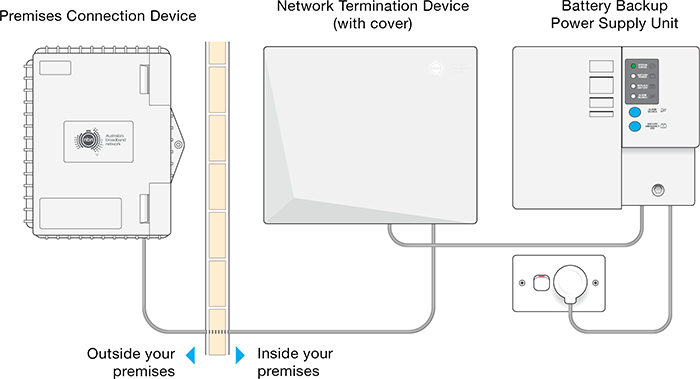 Figure 2: A Fibre to the Premises installation with a Battery Backup
It's now possible to run most services over WiFi, so it's up to you if you want further cabling installed. The NBN installer cannot undertake any internal wiring beyond the Network Termination Device. If you need internal cabling, contact a registered cable installer.
For more information on NBN FTTP Installation, please see Preparing for the NBN (PDF).
Can I still get connected to NBN FTTP if I'm renting?
Yes, but we need the property owner's permission to install NBN FTTP equipment. You will need to speak to your property manager or landlord. When it's time to get connected, we'll need the owner's permission in writing, signed and dated.
I live in an apartment building or block of units—how can I get connected?
If NBN FTTP is already available in your area, contact us by phone on 1300 NBN NOW, or contact our Sales team online, and we'll get you connected. If you're renting, you'll need the property owner's permission to install NBN FTTP equipment.
If the NBN isn't connected, but you're within NBN Co's three year rollout plan, you'll need to contact the building owner or authorised representative. The owner/representative will need to register their details with NBN Co to connect the building to the NBN.
Can I keep my telephone number?
Yes, before the copper services are switched off in your area, you'll need to transfer your number to NBN Phone to keep using it. We strongly recommend that you transfer your phone service when you order your NBN FTTP broadband.
NBN FTTP has been rolled out to my area—do I have to switch?
You don't need to switch to NBN FTTP straight away, but it's a good idea to get connected sooner rather than later.
Standard NBN installations are $0 on a 24 month contract, or $99 on a monthly contract. Additionally, services on the copper network will be turned off approximately 18 months after the NBN is ready in your area. If you're already connected to NBN FTTP there won't be any disruption to your phone and Internet services when this happens.
Once NBN Fibre to the Premises has been enabled in your area, you won't be able to order any new copper-based services—including telephone services, ADSL2+, or Naked ADSL2+.