NBN Wireless broadband plans start from $49.99† per month, and are available on a monthly or 24 month contract.
Choose the 24 month contract option to take advantage of our discounted hardware offer and reduced setup fees.
Looking for NBN Fibre? View our NBN Fibre plans.
NBN Wireless Broadband Plans
100 GB
500 GB
Unlimited GB

† View: Total Minimum Costs | Setup Fees | Hardware Requirements | Terms & Conditions | Critical Information Summary

† The Total Minimum Cost represents 1 month of NBN Wireless plan rental (plus the standard NBN setup fee of $99). Data blocks and option packs are additional. An additional once off $300 nbn™ New Development charge applies if your premises is identified by nbn™ as being within the site boundary of a new development.

* These are the nominal NBN access speeds, and are not necessarily indicative of actual Internet data transfer speeds - learn more about NBN Wireless speeds and performance.

ˆ Excess data usage is shaped to 256/256 kbps.

NBN Wireless Bronze

up to 12/1 Mbps *
connection speeds

$49.99

per month Min Cost: $148.99 † $0.50 per GB ˆ

$64.99

per month Min Cost: $163.99 † $0.13 per GB ˆ

$69.99

per month Min Cost: $168.99 †
NBN Wireless Silver

up to 25/5 Mbps *
connection speeds

$54.99

per month Min Cost: $153.99 † $0.55 per GB ˆ

$74.99

per month Min Cost: $173.99 † $0.15 per GB ˆ

$79.99

per month Min Cost: $178.99 †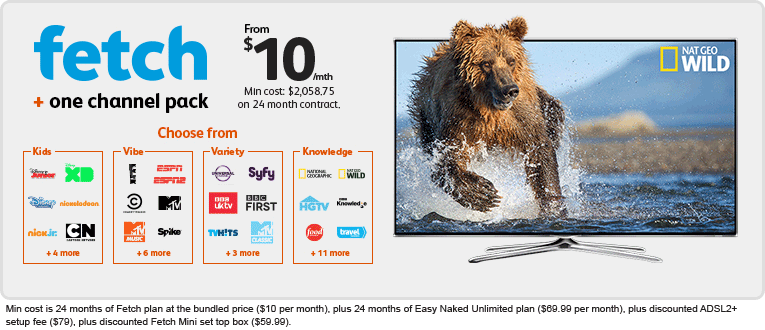 Can I Get It?
Internode provides NBN Wireless services in NBN Fixed-Wireless service areas. If you're located in any of the current NBN Fixed-Wireless service areas, you can order your service today!
More than just the Internet
We've included our standard broadband feature pack at no extra charge:
---
Need More Features?
For Internet enthusiasts and business customers, add a Power Pack or Business Pack for more features:
The Power Pack (+$10 per month) adds a static IPv4 address, faster over quota shaping, and more.
The Business Pack (+$30 per month) adds a static IPv4 address with optional additional subnet (on request), faster over quota shaping, priority business support, and more.
Learn more about Power and Business Packs
---
NBN Phone Services
We have developed a special VoIP phone service for Internode NBN customers, called
NodePhone-Initial. Enjoy great value call rates and advanced features - with no setup fees and no monthly rental! In most areas you can keep your phone number, or get a new one if you prefer.
Of course, if you don't need a phone service, there's no need to order one. All our NBN services are available 'naked'.
Read more about phone options on the NBN
---
NBN Hardware
Get the best performance from the NBN with our range of broadband routers and VoIP phone equipment.
Internode NBN Wireless customers have a choice of two special offers, available when you sign up:
Get an NBN broadband router for $0 ‡,
complete with WiFi (regular price $89) - only if you sign up for NBN Wireless on a 24 month contract; or
$50 off the purchase price of an all-in-one FRITZ!Box 7490 home gateway,
which also features WiFi, voice-over-IP, a DECT cordless phone base station, and other advanced features
(regular price $249) - only when you sign up for an NBN broadband plan.
‡ The $0 NBN broadband router offer is only available on a 24 month contract.
---
Questions?
Got a question about NBN broadband? Learn about getting connected, what to expect on installation day, equipment requirements, and more, with our Frequently Asked Questions.
If you need help, contact our Sales team online, or call us on 1300 NBN NOW (1300 626 669).