Introduction to My Internode
This article will explain the following basics for My Internode, our online account management tool:
Jump to a section:
Logging in to My Internode
Go to My Internode or select Login on the Menu bar once you're on the Internode website.
Log in with the username and password for your Internode account. A one-time passcode will be sent to the mobile number in your account's contact details.
You can reset forgotten passwords at https://internode.on.net/getmypassword.
If you can't log in or receive the one-time passcode please call tech support on 1300 788 233. After confirming your identity, we can help you access your account.
How to navigate the layout
After logging in, you'll see the default Actions menu on the left-hand side of the page. This menu is divided into four sections.
Section 1 - Account overview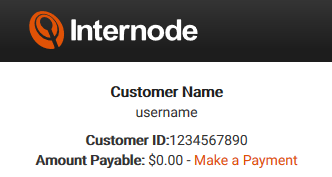 This is a fixed section that lists the following information:
Information
Useful for
Primary contact name
Confirming the account holder (bill receiver)
Broadband username
Logging into My Internode and Webmail
Customer ID
Reference number when contacting us
Amount owing
Checking if any money is owed on the account
Make a Payment shortcut
Section 2 - Service management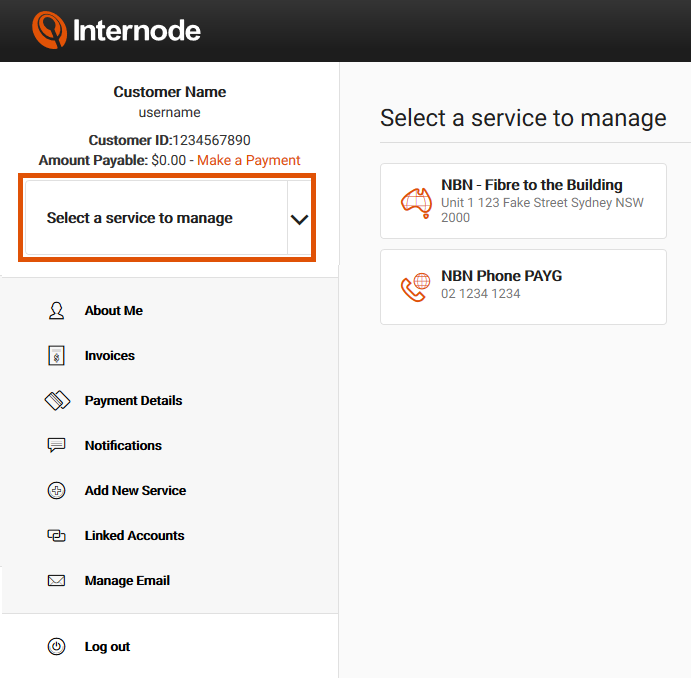 This section has a drop-down menu that you can use to select which service to manage.
This selection is also displayed in the main window of My Internode after logging in.
Additional options will display depending on which type of service is selected:
Service type
Additional options
Useful for
Broadband
Dashboard
Quick overview of plan
Check current data usage (simple)
Check when usage resets
Add a Data pack
Check usage
Check current data usage (detailed)
Check when usage resets
Check data usage history
Add a Data Pack
Change plan
Check current plan details
Change broadband plan
Settings
Toggle Port Blocking
Phone
Dashboard
Quick overview of plan
Check current call usage (simple)
Call History
Check current call usage (detailed)
Check call usage history
Manage Call Packs
Add or remove call packs
Settings
Toggle Calling Line ID Blocking
Toggle Call Barring options
Toggle Call Forwarding/Diverting options
Fetch
Add Fetch Multiroom
Purchase an additional Mini set top box
Upgrade to Mighty
Upgrade from a Mini to a Mighty set top box
Section 3 - Account management
This is a fixed section that gives you the following options:
Option
Useful for
About Me
Check current contact details
Update contact details
Change account password
Change contact preferences (e.g. newsletter subscriptions)
Invoices
Check invoice history
Payment Details
Check current payment details (partially censored)
Update payment details
Change the bill receiver
Notifications
Check history of account notifications
Add New Service
This request will add another service to your existing Internode account
Link Accounts
View and manage linked accounts
Manage Email
Manage mailbox settings
Add or remove a mailbox
Reset email password
Section 4 - Logout button
Logging out is especially important on public or shared computers.
The Logout button is also present in the top right-hand corner of the page.